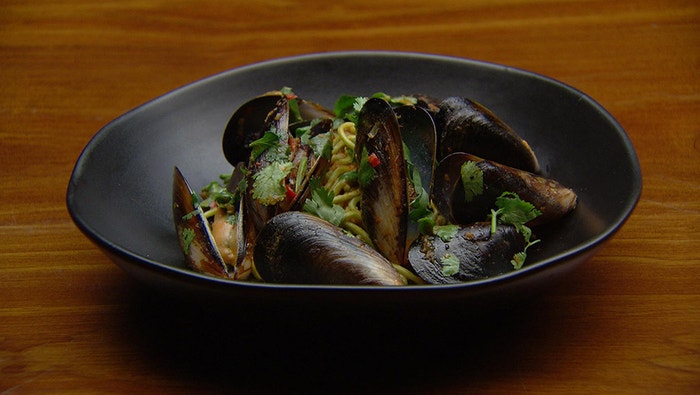 Steps
For the Coriander Infused Noodles, place coriander leaves, ¼ cup water and salt in the canister of a stick blender. Process until coriander is finely chopped. Add egg and mix with a fork to incorporate.
Place flour in the bowl of a food processor. While processing, slowly pour in the coriander egg mixture until it forms the texture of large bread crumbs and will just hold together when pressed. Transfer to a clean bench, lightly dusted with flour, and bring the dough together to form a ball. Knead the dough for 5 minutes to form a strong, tough dough. Cover in cling wrap and rest in the fridge for at least 30 minutes.
Unwrap rested dough and cut in half. Pass the first portion of dough through a pasta machine on the thickest setting. Dough may be a little crumbly on the edges. Fold in half and pass through on thickest setting again then repeat the folding and rolling setting 5 more times, dusting with a little extra flour if required.
Reduce thickness setting on the pasta machine and pass the dough through machine, reducing the thickness another 3 times. Lay sheet of dough on bench and cover with a clean tea towel. Repeat process with remaining portion of dough.
To make the noodles, cut each sheet of dough across in half. Using the spaghetti attachment feed the dough sheet through the machine to form noodles. Dust noodles with flour and cover with a tea towel. Repeat with remaining dough sheets.
Fill a large saucepan with water and bring to the boil. Add noodles and cook until al dente, about 1-2 minutes. Strain and immediately place the noodles in a cold water bath. Set aside.
For the Mussels, to make a broth, place 250g of the mussels, 2 slices of ginger, coriander root and water to cover in a medium sized saucepan. Cover with a lid and place over high heat. Bring to a boil, reduce heat and simmer for 10 minutes. Remove from heat and set aside.
Place birdseye chillies, green chilli, and remaining ginger, grated in a mortar and pestle and grind until a paste.
Place a large wok over medium high heat. Add olive oil and when hot, add the paste and fry until fragrant. Add pureed tomato, sugar, vinegar and oyster sauce and continue to cook, stirring for 2 minutes. Add 3 tablespoons of mussel broth to ensure paste does not dry out. Add the remaining 750g mussels, cover wok and cook until shells open, about 3 minutes. Working quickly transfer mussels from the pan into medium bowl, reserving the sauce in the wok. Set mussels aside until serving.
Return wok to a medium high heat and simmer sauce until thickened slightly, about 1-2 minutes. Taste the sauce and adjust as required with extra sugar, vinegar and oyster sauce.
Drain the noodles well, add to the wok and toss to coat in the sauce. Add 1-2 tablespoons of mussel broth, if required, to ensure sauce coats noodles evenly.
To serve, place Coriander Infused Noodles in the base of each serving bowl. Divide wok cooked Mussels between bowls then garnish with coriander leaves and chilli.