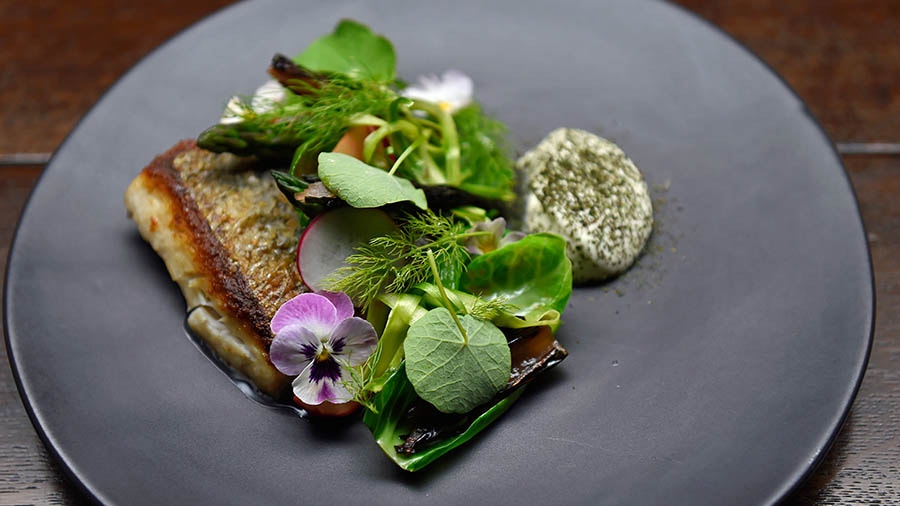 Steps
Heat oven to 160C.
Wash fennel fronds and shake off excess water. Place onto a paper lined baking tray and roast for 15 minutes until dehydrated but not burnt. Remove from oven and transfer to a small food processor and blend to a fine powder. Set aside.
Peel onions and slice very finely. Place into a small saucepan, along with 50g butter and the olive oil. Cook, stirring often, over low heat for 10 mins until translucent and soft. Add cream and cook for a further 5 minutes. Strain through a fine sieve and puree onion until smooth. Season and set aside.
Combine sugar, sherry vinegar and 50ml water in a small saucepan and bring to the boil. Remove from heat and allow to cool. Thinly slice radishes and add half to saucepan. Set aside. Prepare an ice bath in a medium bowl and add remaining radishes.
Bring a medium saucepan of water to the boil. Peel outer leaves from Brussels sprouts. Blanch then place in ice bath. Peel asparagus and remove tips. Slice stems thinly using a vegetable peeler and blanch along with tips. Drain and place in ice bath.
Place crème fraiche into bowl with salt and pepper and whisk to almost soft peaks. Set aside in fridge.
Heat large frypan over medium high heat. Season fish then place fillets skin side down and cook for 3 minutes until skin is crisp. Turn over, add 50g butter and cook for a further 3 minutes or until cooked through. Remove from pan and set aside.
Add chard stems to pan and cook, turning, for 2-3 minutes or until caramelised. Remove pan from heat.
To serve, smear white onion puree onto serving plates. Top with mulloway. Add some crème fraiche to the side and sprinkle with fennel dust. Arrange drained pickled and fresh radish, asparagus, nasturtium, chard, fennel fronds and voilas around mulloway. Season with salt flakes and pepper and a drizzle of olive oil.