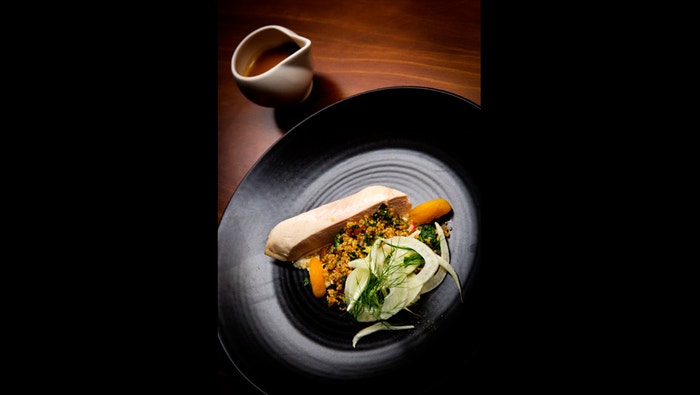 Steps
Preheat a sous vide machine to 72C.
For the Apricot Chicken, place the chicken breasts into a sous vide bag, along with all the other ingredients, and seal to extract the air.
Place in the water bath and cook at 72C for 25 minutes. Once cooked, remove form the water bath and rest in the bag, before slicing to serve.
For the Jus, heat a large fry pan over high heat. Add the oil and the chicken bones and fry until golden.
Deglaze the pan with the port. Add the stock and apricot nectar, reduce heat and simmer for 25 minutes or until reduced and thickened. Strain the jus through a fine sieve and return to a clean pan.
Place the pan over a medium heat, add the butter, one cube at a time, and whisk until butter melts and is combined. Set the jus aside to keep warm until needed.
For the Cauliflower Purée, place cauliflower, onion and 100g of the butter in a medium saucepan and set over a medium heat. Add 2 – 3 tablespoons of water and stir until the butter melts. Reduce heat and simmer for 15 minutes or until cauliflower is soft.
Once cooked, transfer the cauliflower mixture to a Thermomix and blitz to a coarse purée. Add the remaining butter and half the cream and blitz to a smooth purée. Continue to add cream and blitz until desired consistency. Set purée aside to keep warm until needed.
For the Cous Cous, place the coud cous in a heat proof bowl and add 1 cup of boiling water. Stir the cous cous, cover with a pot lid or aluminium foil and leave to stand for 5 minutes.
Once cous cous has absorbed the water, uncover and add the butter and turn over with a fork to melt the butter and separate the grains.
Add all other ingredients and toss to combine. Season to taste and set aside until needed.
For the Fennel, slice the fennel bulb in half and remove stems and tough outer layers, reserving a few fennel fronds for garnish. Finely slice the fennel and place in a bowl, add the lemon juice and toss well to combine. Set aside until needed.
To serve, slice the chicken breast on the diagonal into thick slices. Place 2 tablespoons of the Cauliflower Purée in the centre of each plate and smear slightly. Place 1 piece of chicken on one half of the purée and several spoonsful of the Cous Cous on the other half. Add 3 – 4 halves of the sous vide apricots around the chicken and Cous Cous. Add several slices of dressed fresh fennel and garnish with fennel fronds. Serve with warm Jus on the side.