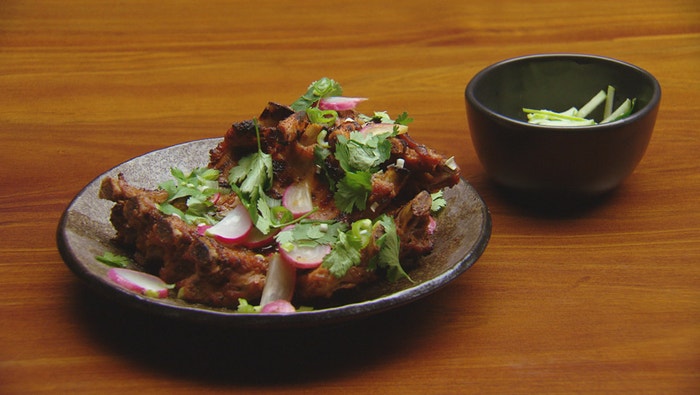 Steps
Preheat oven to 180C.
For the Miso Pork Ribs, cut the racks into 4 equal portions.
Combine the remaining ingredients, except the chicken stock, in a large baking dish and whisk together until combined. Add the ribs and coat in the marinade and set aside in the fridge for 30 minutes. Transfer to a pressure cooker along with the stock and cook under high pressure for 30 minutes.
Release the pressure and remove the ribs. Strain the cooking liquid into a small saucepan and place over low heat. Simmer until thickened.
Meanwhile, prepare a hibachi grill or BBQ or heat a grill pan over medium heat. Once hot, add the pork ribs, basting with the reserved cooking liquid and cook, turning and basting, until ribs are golden and charred. Remove from the heat and set aside, keeping warm.
For the Cucumber and Apple Pickle, combine the vinegar, sugar and a pinch of salt in a medium bowl and mix together. Set aside.
Julienne the cucumber and apples and place into the bowl of pickling mixture. Toss to combine then set aside in the fridge to pickle.
For the Roasted Red Radishes, trim the green tops from the radishes and wash well under running water.
Place into a small roasting tray, drizzle with oil and season with salt and pepper. Cook in the oven until juicy and bright in colour, about 20 minutes. Remove from the oven and set aside.
To serve, brush the Miso Pork Ribs with a little reserved cooking liquid then stack into a shallow bowl. Roughly chop the Roasted Radishes and arrange over the ribs. Garnish with coriander and spring onions and serve with the Cucumber and Apple Pickle on the side.