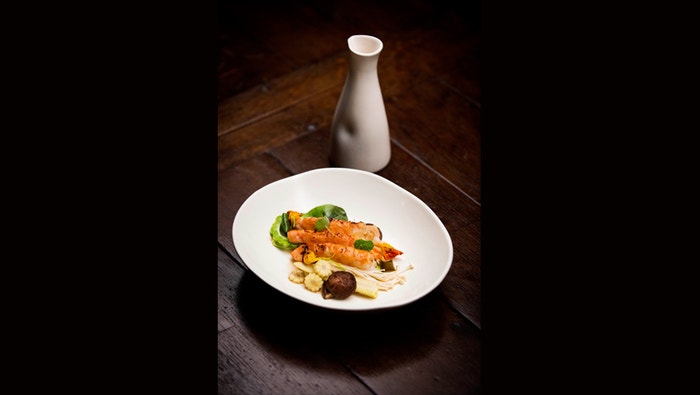 Steps
Preheat oven to 180C.
Insert bamboo skewer into each prawn, to keep them straight. Place prawns on a plate in the fridge until needed.
To make dashi, place kombu and dried shitake into a saucepan and cover with 1 litre of water. Heat to 80C the remove from heat. Add the bonito flakes, infuse for 10 minutes then strain through a fine sieve, reserving the solids.
Remove the cooked kombu from the reserved solids and cut into 2cm squares. Set aside until needed.
To make a miso glaze, combine miso, 50ml of the mirin and 2 tablespoons of water in a small saucepan and cook for 4-5 minutes, or until slightly reduced. Set aside until needed.
Meanwhile, place wire rack directly over the gas hob on the stovetop, or a barbecue, and cook prawn shells over medium flame until charred. Remove from heat and set aside until needed.
Season the dashi stock to taste with 30ml soy sauce and 30ml mirin so it tastes slightly sweet with a salty tang. Divide into 2 saucepans.
Add grilled prawn shells to one saucepan and set aside to infuse for 15 minutes. Once infused, strain through a fine sieve and keep broth warm until needed.
Place second saucepan of dashi over medium heat and bring to a simmer. Add enokis, shitakes and sweetcorn and poach for 2-3 minutes, or until just tender. Take saucepan off heat and set aside until needed.
Strain the stock and reserve the baby sweetcorn and mushrooms from the poaching stock.
Slice half of the sweetcorn into half lengthways. Slice the remaining half of the sweetcorn into thin rounds. Set vegetables aside until needed.
Place a griddle pan over high heat, brush the kohlrabi slices with a little of the vegetable oil and place in the griddle pan to char until golden brown. Set aside until needed.
Remove skewered prawns from the fridge and place onto a baking tray lined with baking paper and cook in the pre-heated oven for 8-10 minutes, or until firm. Remove the prawns from the oven, brush with miso glaze and return to oven for a further 2 minutes. Remove from oven and use a blow torch to colour the prawns.
To serve, place 2 slices each of charred kohlrabi in base of 4 serving bowls. Surround the kohlrabi with poached enoki mushrooms and sweetcorn pieces and rounds. Add a slice of bittermelon to each bowl. Top with 3 grilled prawns and garnish with shiitakes, kombu squares, silverbeet leaves and nasturtium leaves. Serve with warm prawn dashi on the side to pour over just before eating.