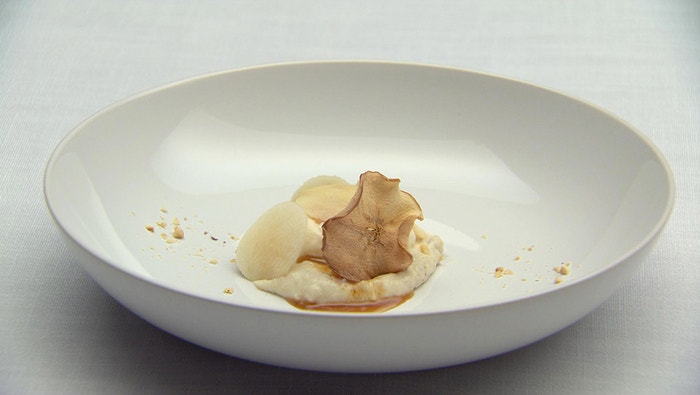 Steps
Pre chill ice cream churner and pre heat oven to 160C.
For the Miso Caramel Ice Cream, place cream and milk in a saucepan and bring to a gentle simmer over medium low heat. While cream mixture is heating, place 45g caster sugar in a small frypan. Set over medium heat and melt to a dark caramel. Remove from heat and carefully whisk into hot cream mixture.
Place egg and remaining 45g sugar into the bowl of a stand mixer fitted with a whisk attachment and whisk until thick and fluffy. Slowly add half the hot cream mixture to the egg whilst still whisking. Add egg mixture back to the remaining cream mixture in the saucepan and place back onto a low heat. Add miso then whisk until mixture reaches 82C. Remove from heat and strain through a sieve into a medium sized bowl. Place over an ice bath to cool.
Once cold, place into an ice cream machine and churn according to manufacturer's instructions. Place ice cream in freezer, until serving.
For the Hazelnut Crumb, place hazelnuts onto a roasting tray then place into the oven to cook until skins begin to lift, about 15 minutes. Remove from oven and place nuts between two clean tea towels and rub skins from the nuts.
Place peeled hazelnuts into the bowl of a food processor and blitz to a fine crumb. Measure out ¼ cup for Hazelnut Creme and set remaining aside until serving.
Reduce oven temperature to 110C.
For the Apple Crisp, use a mandolin to slice apples into 1mm thickness so that core is in the centre of the apple disc. Remove any seeds then place on a wire rack set over a baking tray. Place in oven to bake until discs are crisp, about 1 hour. Remove from oven and set aside until serving.
For the Hazelnut Crème, place all ingredients into a saucepan and set over medium heat. Bring to a boil while whisking continuously. Cook until mixture is thick enough to hold its shape. Pass through a fine sieve and set aside, in fridge, to cool until serving.
For the Cider Caramel Sauce, place sugar and 1½ tablespoons water in a saucepan and set over medium heat. Cook, using a wet pastry brush to brush sugar from the sides of the saucepan to prevent syrup crystallising.
Meanwhile, place cream into a small saucepan and set over medium low heat and heat until cream is warm. Once sugar is dark amber remove from heat and whisk in warm cream. Add apple cider and apple liqueur and whisk to combine. Place pan over ice to cool the mixture until serving.
To serve, spoon Hazelnut Creme into the base of each serving plate then sprinkle with Hazelnut Crumb. Place a spoonful of Miso Caramel Ice Cream on top followed by a drizzle of Cider Caramel Sauce. Garnish with fresh apple slices and Apple Chips.