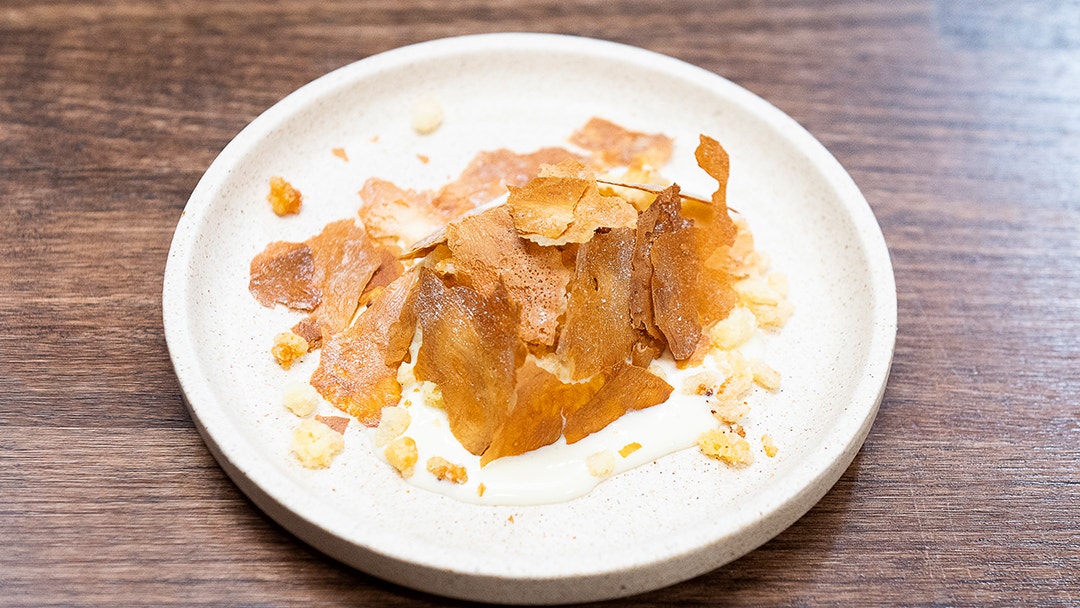 Steps
Prechill ice cream machine and prepare an ice bath in a medium bowl. Preheat oven to 180°C fan-forced.
For the Milky Ice Cream, place the milk and milk powder in a saucepan and whisk until partially dissolved. Add remaining ingredients and place over low heat. Gently stir until the mixture is homogenous.
Cool the mixture over an ice bath. Transfer to the ice cream machine and churn according to manufacturer's instructions. Place into a container, cover and set aside in the fridge until ready to serve.
For the Milk Skin Shards, combine the milk and honey in a large wide pan. Season with salt to taste and heat over a low-medium heat. The milk should warm to almost steaming but not boil. When a skin forms, place a large sheet of baking paper over the pan and gently press onto the skin. Carefully and swiftly, lift the baking paper and repeat this process on the same baking paper for 3-4 times so that the skin has some thickness. Repeat process another 3 – 4 times to ensure there are enough shards for four servings.
Place on a baking tray, milk skin side up. Bake in the oven for around 7-8 minutes until golden. Remove from the oven. Peel the milk skin away from the baking sheet and set aside to cool. Lightly dust with icing sugar then transfer to an air-tight container until needed.
For the Rice Bubble Milk Crumble, place the butter, milk powder, sugar and salt into a mixing bowl and mix until well combined. Add the rice bubbles and gently crumble using fingers, avoiding crushing them too much. Drizzle malt extract over the top and gently toss through using fingertips.
Spread the mixture over a lined baking tray in a single layer and bake until golden and crisp, about 10-15 minutes. Remove from the oven and set aside to cool.
To assemble, place a generously sized rocher of ice cream into the centre of each plate. Using the back of a spoon, create a hollow in the ice cream. Top with a spoonful of rice bubble milk crumble and then place the milk shards on top and around the ice cream. Serve immediately.