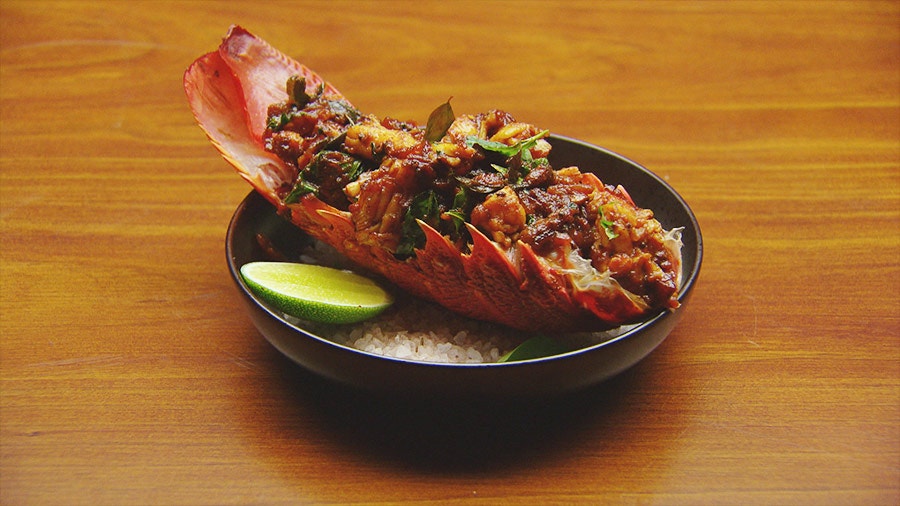 Ingredients
Lobster and Lobster Stock
Steps
Prepare an ice bath in large bowl.
To prepare to smoke the dish, place a piece of charcoal onto an open flame and allow to heat until bright red.
In the meantime, for the Lobster, bring 4 litres of water to the boil in a large saucepan.
Add the garlic, ginger and salt. Add the lobsters, return the water to the boil then simmer for 5 minutes. Remove the lobsters and transfer to the ice bath to cool slightly. Reserve poaching water over low heat.
Twist the heads of the to separate the heads from the tails. Using kitchen scissors, cut along the length of the underside of the tails, alongside the legs. Carefully peel away the meat from the shell and gently pry the tail meat from the shell, keeping it intact. Reserve the tail shell for serving.
For the Lobster Stock, heat a large saucepan with the oil over medium high heat. Cut the lobster heads in half lengthways and place in the hot pan along with the legs. Cook until lightly charred.
Add the onion and curry leaves and 4 large ladles of poaching water. Reduce the heat and simmer for 5-6 minutes. Strain through a large muslin lined sieve into a bowl and set aside.
For the Masala Sauce, place the cumin and mustard seeds and 4 curry leaves into a large deep frypan over a medium heat. Toast until fragrant. Add 2 tablespoons ghee and cook until the spices have browned.
Add the onion and cook until soft, stirring regularly. Season with a pinch of salt then add tomatoes and garlic and cook until tomato has softened. Add the tamarind chipotle ketchup, coriander leaves, remaining spices and jaggery and cook for 5 minutes . Add 1 tablespoon of ghee and the 2 ladles of Lobster Stock. Simmer for 3-4 minutes until reduced slightly.
Reduce the heat to low. Cut each lobster tail into 6 portions and season with salt. Add to the sauce and simmer until just cooked through, about 2-3 minutes. Remove the pan from the heat.
Place a small metal bowl into the centre of the sauce. Place the fenugreek seeds, leaves and ghee into the bowl. Place the hot charcoal into the bowl, cover the pan with a lid and allow the dish to infuse with smoke for 5 minutes.
Remove the lobster meat from the sauce and smoke the sauce for a further 3-4 minutes. Remove the metal bowl and its contents from the sauce. Return the lobster to the sauce and stir through. Spoon the lobster portions into the reserved lobster tail shell and set aside.
To serve, sprinkle a serving plate with sea salt flakes, ground cumin, chilli powder and the remaining curry leaves. Arrange the Smoked Masala Lobster on top and garnish with coriander.