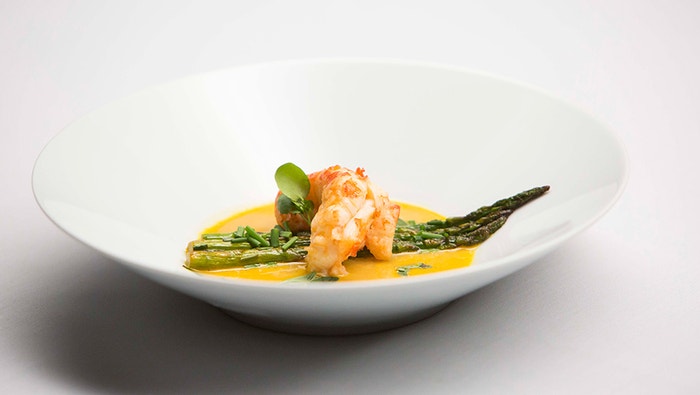 Steps
Fill sous vide machine and set to 63C. Set pressure cooker to browning setting.
For the Marron, bring 2 litres of salted water to the boil in a large saucepan over high heat. Prepare an ice bath.
Add marron to boiling water and cook for 4 minutes, then remove and place straight into the ice bath. Remove the marron heads and peel tail shells, set these aside for the Bisque
Place peeled marron tails into a vacuum seal bag with thyme and extra virgin olive oil. Seal vacuum bag and place into the prepared sous vide machine for 15 minutes.
Meanwhile, for the Bisque, add shallots, garlic and reserved marron heads and tail shells to the preheated pressure cooker and stir until browned. Deglaze with carrot juice, ginger beer and stock. Secure lid and cook on high pressure for 15 minutes. Release pressure and strain liquid into a large saucepan over medium heat. Add lemon myrtle and reduce by 1/3. Remove lemon myrtle leaves and discard. Whisk in cream, then whisk in butter, one cube at a time, until fully combined.
For the Asparagus, melt butter in a medium pan over medium heat. Add asparagus and cook until just soft, about 2-3 minutes. Deglaze with verjuice and continue cooking for 1 minute. Remove from heat, season to taste and set aside.
To serve, place 3 Asparagus spears into the centre of the bowl and top with a Marron tail. Ladle some of the Bisque into the bowl and garnish with marjoram, watercress and chives.