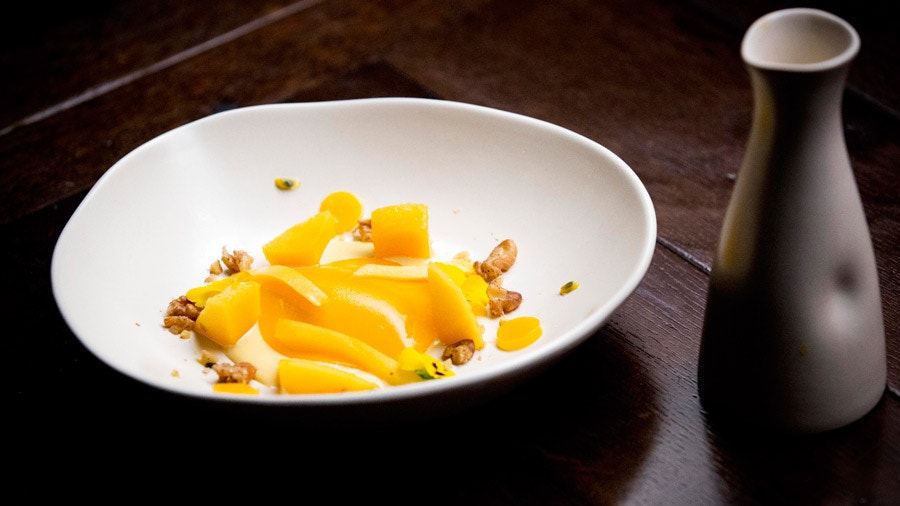 Ingredients
Mango and Passionfruit Syrup
Steps
Heat oven to 180C. Prepare a bowl of iced water.
For the Custard, whisk egg yolks, sugar and vanilla paste until pale and creamy. Set aside until needed.
Bring cream to just below boiling point then add to egg yolks, pouring in a steady stream and whisking continuously until combined. Return the mixture to the saucepan and cook over low heat, stirring continuously until mixture thickens and coats the back of a spoon.
Remove the Custard from the heat and strain through a fine sieve into a clean bowl. Set the bowl over the ice bath and allow to cool. Once cool, transfer the Custard to a piping bag and set aside in fridge until needed.
For the Mango Jelly, place the gelatine leaf into a small bowl of cold water until soft.
Meanwhile, place mango juice into a small saucepan on the stove top over medium heat and bring just below boiling point. Remove gelatine leaf from water and squeeze to remove excess moisture. Remove the mango juice from the heat, add softened gelatine leaf and stir until gelatine has dissolved.
Line an 18cm square baking tray with cling film. Strain the jelly mixture through a fine sieve and pour the mixture into the lined tray. Set the jelly aside in the fridge to set.
For the Mango Syrup, place sugar and 125ml water in a small saucepan over medium heat until sugar dissolves then add mango juice, pulp from 1 passionfruit and the thyme. Simmer for 10 minutes until reduced and thickened.
Strain syrup through a fine sieve then stir in pulp from remaining passionfruit. Pour the syrup into small serving jug. Set aside until needed.
For the Spiced Walnuts, combine all ingredients in a bowl. Pour onto a baking tray lined with baking paper and place in the pre-heated oven to roast for 10 minutes, or until golden and crisp. Remove from oven and place half the walnuts into a small bowl. Chop the remaining half finely and place in a separate bowl. Set walnuts aside until needed to serve.
Prepare the Fresh Mango by removing skin from mango cheeks. Cut one cheek into small dice and the other into thin slices and place in separate bowls. Add the lemon juice to the diced mango and toss gently to coat. Add the passionfruit pulp to the mango slices and toss gently to coat. Set mango aside until needed to serve.
To serve, pipe Custard into the centre of 4 serving plates. Use a ring cutter to cut 4 x 8cm discs from the Mango Jelly and carefully place on top of the Custard on each plate. Arrange mango cubes and slices around the jelly. Drizzle a little Mango and Passionfruit Syrup over the jelly and around the plate then sprinkle with chopped and whole Spiced Walnuts Garnish with edible flowers and a sprinkle of sea salt flakes.