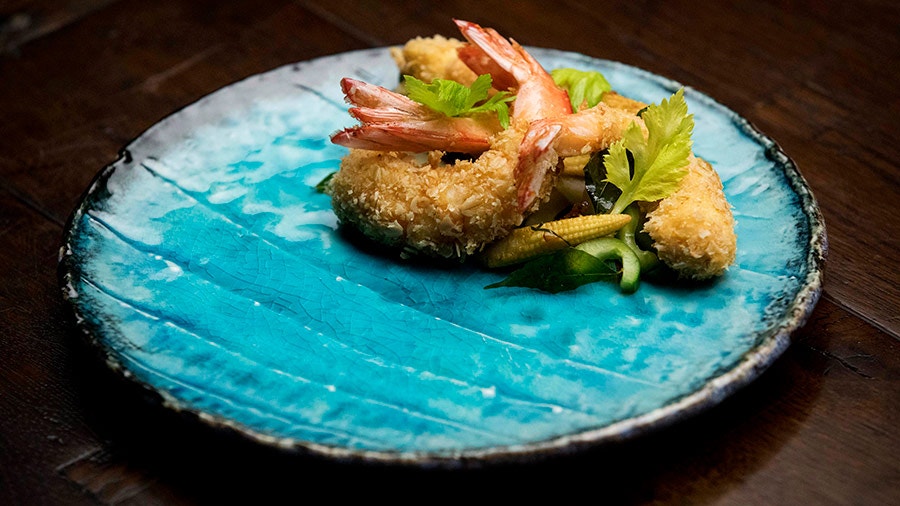 Ingredients
Pickled Celery and Cucumber
Steps
Pre-heat a deep fryer to 170C.
For the Pickled Celery and Cucumber, chop the celery finely at an angle and place into a small bowl. Slice the cucumber in half lengthways, remove seeds and slice into semicircles. Place into the bowl with celery and set aside.
Make a pickling liquid by placing remaining ingredients into a small saucepan and bringing to a boil, stirring until the sugar dissolves. Remove from heat and allow to cool.
Once cool, pour the pickling liquid over the celery and cucumbers and set aside to pickle for 15 minutes. Once pickled, drain the celery and cucumber and set aside in a small bowl until ready to serve.
For the Relish with Baby Corn, place the butter in a wok then add in the ginger, shallots, chilli and garlic and cook, stirring, until fragrant. Add dried shrimp and fry for a minute. Add the curry leaves and toss around pan until fragrant, about 1 minute. Add soy sauce, caster sugar and baby corn, and toss in the pan to coat in the relish. Remove relish and corn from the wok and set aside. Reserve any residue in the wok and return to the heat.
For the Creamy Sauce, using the same wok, add evaporated milk and butter and swirl the pan until butter melts.
Add sugar, season with salt to taste, then stir in the tamarind purée. Place the Creamy Sauce into a serving jug and set aside, keeping warm, until ready to serve.
For the Oatmeal Prawns, place oats, panko and sugar into a food processor and process until a fine crumb. Transfer to a shallow bowl. Place rice flour into a separate bowl. Place the eggs into a third bowl and whisk lightly.
Season prawns with some salt.
Coat the prawns in the rice flour then the egg wash and then in the oat and panko mixture.
Cook prawns in the pre-heated deep fryer in 2 batches, until golden brown, about 2 – 3 minutes. Remove from oil and place onto paper towel to drain. Season with salt to taste and set aside, keeping warm, until ready to serve.
To serve, spread a teaspoon of Gochujang paste over the base of each plate. Place some Pickled Celery and Cucumber on top and add 3 prawns to each plate, on top of the pickles. Spoon 2 teaspoons of the Relish with Baby Corn on each plate. Garnish with celery heart leaves around the prawns and serve with Creamy Sauce in a jug on the side.