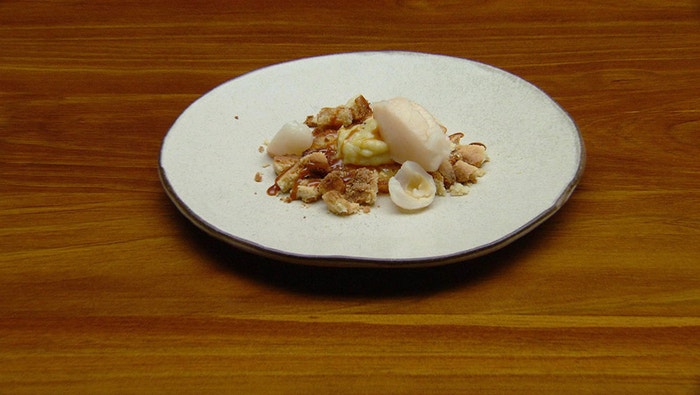 Steps
Prechill ice cream machine. Preheat oven to 180C.
For the Lychee Sorbet, place lychees and syrup into a blender and process to a smooth puree.
Transfer to ice cream machine and churn according to manufacturer's instructions then place into the freezer until firm and ready to serve.
For the Pineapple Custard, place milk in a medium saucepan and bring to a simmer.
Meanwhile, place egg yolks, sugar and flour in the bowl of an electric mixer fitted with a whisk attachment. Whisk on high speed until pale and thick, about 1 minute. Slowly add hot milk while whisking continuously. Return the egg mixture to the saucepan and cook, stirring continuously, over medium heat, until mixture thickens and reaches 84C. Remove from heat and strain into a medium bowl.
Add butter and crushed pineapple and whisk to combine. Place over an ice bath to cool then and transfer to a piping bag. Set aside in fridge, until serving.
For the Coconut Shortbread, place ingredients in a food processor and process to a crumb consistency. Tip onto work surface and bring dough together. Roll out to 2 cm thickness and place on a lined tray.
Place in oven to bake until golden brown, about 20 minutes. Remove from oven and set aside to cool. Crumble between fingertips and set aside, until serving.
For the Grilled Pineapple, heat a non-stick griddle pan over medium heat. Add drained pineapple slices and cook, brushing with reserved syrup until soft and charred, about 10 minutes. Remove from heat and set aside until serving.
For the Salted Caramel, place sugar into a medium frypan and melt over low heat until dark amber in colour. Carefully add cream, butter and salt and whisk until combined. Remove from heat and set aside, keeping warm, until serving.
To serve, place a slice of Grilled Pineapple into the middle of each serving plate. Pipe some of the Pineapple Custard into the centres of the pineapple slices. Add Coconut Shortbread and lychee halves. Drizzle with Salted Caramel and top with a scoop of Lychee Sorbet.