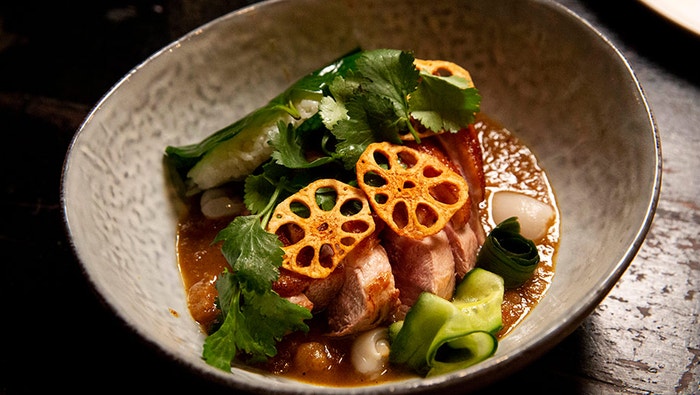 Steps
Preheat oven to 180C.
For the Pickled Cucumber, place chillies, garlic, sugar, lime juice, and fish sauce in a bowl and stir to combine.
Thinly slice the cucumber lengthways with a vegetable peeler and add to the bowl. Set aside to pickle for at least 1 hour then drain and set aside until serving.
For the Crispy Lotus Root, heat oil in a saucepan to 180C. Deep fry the slices of lotus root, in batches, until golden brown. Remove from oil and drain on kitchen paper. Season with salt and set aside until serving.
For the Coconut Rice, wash rice under running water until water runs clear. Place into a medium saucepan with lemongrass, coconut milk, salt and 2 ½ cups water. Set over medium heat and bring to a boil. Cover with a lid, reduce heat and simmer until rice is tender and liquid is absorbed, about 12 minutes. Rest the rice for at least 5 minutes, covered, then fluff with a fork. Set aside, keeping warm, until serving.
For the Lychee Sauce, roughly chop lemongrass, shallots, garlic, ginger and coriander roots and place into a blender.
Dry roast cumin seeds, dried chilli, coriander seeds and belacan in a small frypan over medium heat until fragrant. Transfer to the blender. Add coconut juice, half of the whole canned lychees, and half of the syrup and blend to a smooth paste.
Heat peanut oil in a large saucepan over medium high heat. Add paste and cook, stirring, until fragrant, slightly coloured and thickened, about 5-6 minutes. Add coconut milk, fish sauce and palm sugar, cook, stirring, until sugar dissolves, about 2 minutes.
Roughly chop the remaining lychees and add to the sauce along with remaining lychee syrup. Reduce heat to simmer and cook until browned, about 10 minutes. Remove from heat, season with salt and set aside, keeping warm, until serving.
For the Duck, season duck breasts with salt. Place into a large, cold ovenproof frypan, skin side down and place over a low heat. Cook until the duck skin is golden brown and fat is beginning to render, about 5 minutes. Turn breasts over then transfer pan to the oven and cook for 8-10 minutes or until cooked to your liking. Remove from oven and rest the duck for 10 minutes before slicing.
To serve, spoon Lychee Sauce into the base of each serving bowl and top with sliced Duck. Place a spoonful of Coconut Rice in between 2 betel leaves and add to the bowl. Add Pickled Cucumber and Crispy Lotus Roots. Garnish with coriander, mint and lychees.