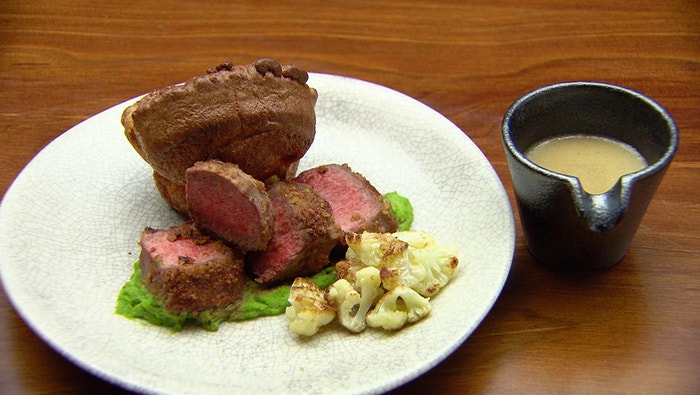 Steps
Preheat oven to 220C.
For the Yorkshire Pudding, fill 6 holes of extra large muffin tray each with 2 teaspoons olive oil and place into oven to heat.
Place flour and salt into a bowl and mix to combine.
In a separate bowl, place milk and eggs and whisk until combined. Pour into flour mix and whisk until a smooth batter forms. Set aside to rest for 10 minutes.
Carefully remove muffin tray from oven and pour rested batter into hot oil in muffin holes until two thirds full.
Return to oven to bake until browned and well risen, about 25-30 minutes. Remove from oven and set aside until serving.
For the Pea Puree, bring a small saucepan of salted water to a boil. Add peas, return to the boil and cook until tender. Drain well then place peas into the cylinder of a stick blender and puree until smooth. Add cream a little at a time and blend until smooth and silky.
Pass puree through a sieve, back to the saucepan, season to taste and set aside, keeping warm, until serving.
For the Roasted Cauliflower, bring a small saucepan of water to a boil. Add cauliflower florets and cook until just tender, about 7-10 minutes. Drain well.
Meanwhile, heat oil in a small frypan over a high heat. When hot, add blanched cauliflower and cook until slightly browned. Set aside, keeping warm, until serving.
For the Lamb Loin, remove loins from the rack and set aside in a bowl. Chop bones and trimmings finely.
Place ½ tablespoon olive oil in a medium frypan and set over high. Season lamb bones and trimmings with salt and pepper and add to the hot oil. Cook until caramelised and crispy.
Add flour and stir until bubbling. Add 200ml water and continue cooking, stirring well, until a slightly thick gravy. Strain into a clean saucepan, add butter and stir until smooth. Season to taste and set aside, keeping warm, until serving.
For the Lamb Loin, add mustard and salt to the reserved lamb and rub all over.
Place remaining ½ tablespoon olive oil in an ovenproof frypan and set over medium high heat. Add lamb loins and cook until browned on all sides.
Transfer to the oven and cook until medium-rare, 5-7 minutes or until cooked to your liking. Remove from pan and place on a warm plate to rest until serving.
To serve, carve Lamb Loin into slices. Spoon Pea Puree into the centre of each plate and arrange sliced Lamb Loin on top. Arrange Roasted Cauliflower to one side. Place Yorkshire puddings on plates, including the extra 2 if desired. Transfer hot gravy to a small jug and pour over lamb and pudding to serve.