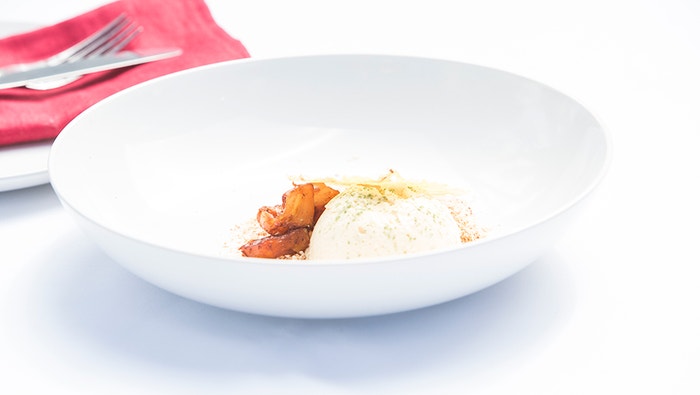 Steps
For the Dehydrated Pineapple Flowers, peel the pineapples and slice finely on a meat slicer into thin slices about 1mm thin. Arrange on dehydrator trays, making sure they don't overlap. Place in the dehydrator until dry and crisp, about 3 hours.
For the Lime Semifreddo, place the egg yolks in the bowl of an electric mixer fitted with the whisk attachment and whisk until pale and thick.
Meanwhile, place the sugar and 100ml water in a small saucepan over medium heat and stir until sugar is dissolved. Continue to heat the sugar syrup until it reaches a temperature of 121C.
With the mixer motor running, slowly pour the sugar syrup into the egg yolks. Remove the gelatine from the water, squeeze to remove excess liquid and to the bowl with mixer still running. Continue to whisk until the mixture is pale and fluffy and has cooled.
When the mix is cool, gently fold through the lime zest and the whipped cream. Sit a sheet of 10 x 6cm dome moulds on to a flat baking tray and fill each dome with the semifreddo mixture. Use an offset spatula to smooth and level the tops of the domes and place in the freezer until frozen.
For the Lime Syrup, combine lime juice and sugar in a small saucepan over medium heat and simmer until thick and syrupy, about 20 minutes. Transfer the syrup to a metal bowl and set over an ice bath to cool. Once syrup is completely cool, transfer to a squeeze bottle and set aside until needed.
For the Kaffir Lime Dust, place 5 lime leaves in a microwave and cook for 2 minutes. Remove from microwave and place on to paper towel to cool and crisp. Repeat with the remaining lime leaves. Pound the crisp lime leaves in a mortar and pestle to a fine powder. Sieve the powder to remove any larger particles, then set aside in a small bowl until needed.
For the Caramelised Pineapple, place diced pineapple into a small frypan. Add sugar, lime juice and vanilla seeds and pod. Place on medium high heat and cook pineapple, stirring regularly until caramelised and golden, about 8 – 10 minutes. Remove from heat and set aside to cool until needed.
To serve, place a small spoonful of toasted coconut in a chilled bowl, followed by 3 cubes of Caramelised Pineapple. Place a Lime Semifreddo next to the coconut, followed by some of the Lime Syrup then sprinkle with Kaffir Lime Dust and top with a Dehydrated Pineapple Flowers.