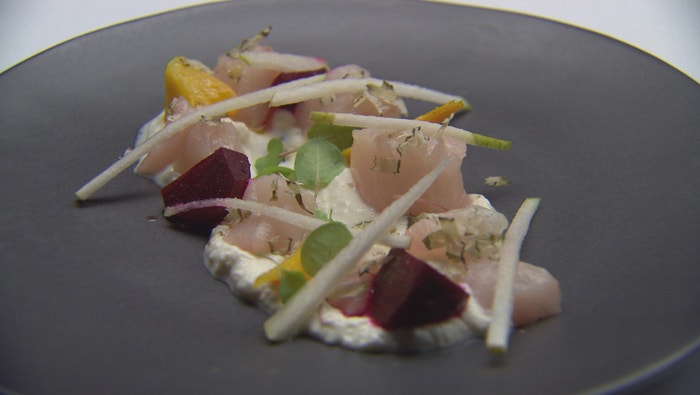 Steps
For the pickled beetroot, trim beetroots of their stalks and reserve. Trim end of beetroots and neaten then wash well under running cold water. Place each beetroot variety into a separate small saucepan and cover with water. Add 50ml white wine vinegar, 50g sugar, 1 teaspoon peppercorns, a bay leaf and pinch of salt to each pan. Cover and cook over a medium heat until tender then drain. While still warm, remove skin and slice in half then cut each half into wedges and place into separate bowls.
Dress each beetroot variety with 50ml chardonnay vinegar, 50ml olive oil, salt and pepper and set aside.
For the horseradish cream, mix the quark and horseradish together and season to taste. Set aside in the fridge.
To smoke the kingfish, place kingfish onto an oiled wire rack and place into a large deep baking dish. Cover with a tight fitting lid or clingfilm and fill dish with smoke from a smoking gun for 5 minutes and seal well. Fill with more smoke and set aside for a further 5 minutes. Remove and slice thinly to achieve 70 thin slices.
To serve, spread a spoonful of horseradish cream over each serving plate. Twirl kingfish slices into small cones and place 7 slices on each plate evenly over the cream. Drain beetroot then arrange onto each plate, around kingfish. Sprinkle with pear matchsticks and place up against the kingfish at different angles. Break the kombu into smaller ribbons and then drape over the dish and then garnish with red sorrel cress.