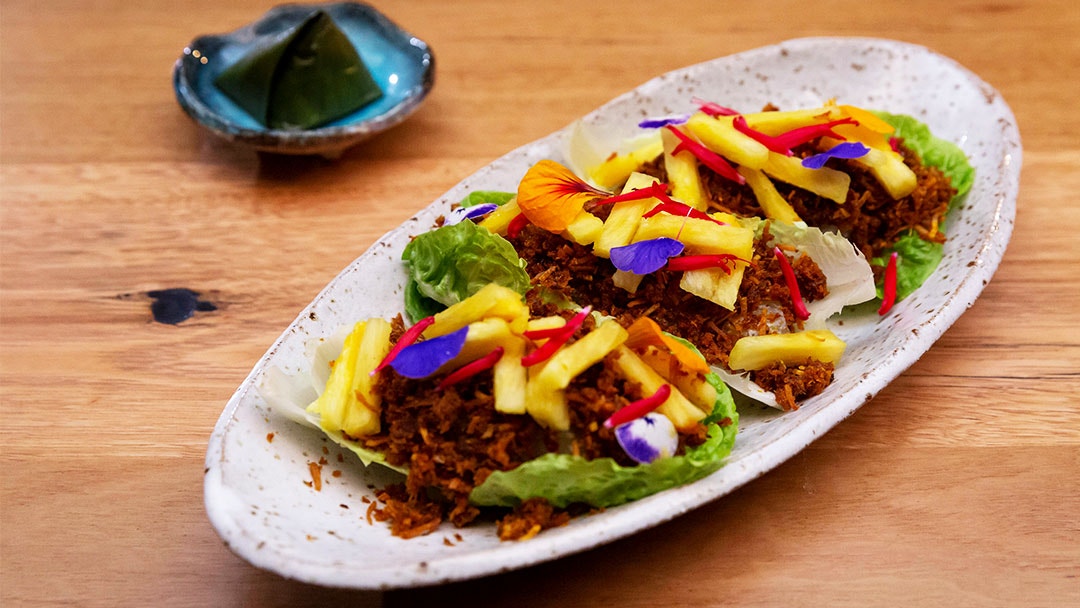 Steps
Preheat oven to 160C.
For the Sago Dumplings, soak sago in plenty of cool water for 30 minutes. Drain through a sieve, ensuring they still hold a little water. Spray a 10cm x 20cm heatproof dish with canola spray. Pour in the soaked sago and level surface.
Partially fill a large wok with water and place over high heat. Place the sago on a trivet or metal steaming basket, cover and steam until translucent, about 15 minutes. Remove from the wok and allow to cool for 2-3 minutes. Spray the surface with canola spray before inverting onto a chopping board. Cool for another 30 minutes before slicing with a wet knife into 1.5cm cubes.
Place the coconut milk into a medium bowl. Separate the sago cubes with wet fingers, directly into the coconut milk. Season well with salt then gently toss the cubes to coat. Set aside.
For the Kuih Koci dough, cook sweet potato in a double boiler until tender. Pass cooked sweet potato through a potato ricer into a bowl. Add 100-125ml coconut cream, rice flour, sugar and pandan paste and mix to a soft and pliable dough. Set aside.
For the Kuih Koci filling, combine coconut, 70ml coconut cream, palm sugar and salt in a small saucepan. Cook until sugar has melted, liquid has evaporated and mixture is moist and sticky. Remove from the heat and chill in the fridge before using.
Roll the coconut filling into 3cm diameter balls and set aside on a lined tray.
To assemble, cut dough into 6 x 40g portions. Roll into balls then flatten each to 6mm thick. Place the prepared coconut balls into the centres then wrap the dough to enclose the filling, pinching to seal.
Place onto the prepared banana leaf squares and fold around to enclose, tucking loose ends in.
Place into double boiler and steam for 7 minutes. Remove from the heat and set aside at room temperature.
For the Rempah Udang, place the shrimp into a bowl and cover with boiling water. Set aside to soften for 20 minutes then drain well. Transfer to a food processor and process to a fine crumb.
Place the dried chillies into a bowl and cover with boiling water. Set aside for 20 minutes then drain well, reserving the water.
Place the coconut onto a tray and toast in the oven until lightly golden, about 10-15 minutes. Remove from the oven and set aside.
Combine soaked dried chillies, fresh chillies, shallots, garlic, galangal, turmeric, lemongrass, belacan and coriander seeds in a food processor then process to a puree, adding reserved chilli water as needed.
Place into a large deep frypan with vegetable oil and add crumbled shrimp. Place over medium heat and cook, stirring frequently, until the mixture is deep brown, about 20 minutes. Add the toasted coconut and sugar and salt to taste. Remove from the heat.
To assemble, place lettuce leaves onto serving plate and top each with sago dumplings. Add a heaped tablespoon of the Rempah Udang. Arrange pineapple batons across the top and garnish with the leaves and petals. Add Kuih Koci and serve at room temperature.