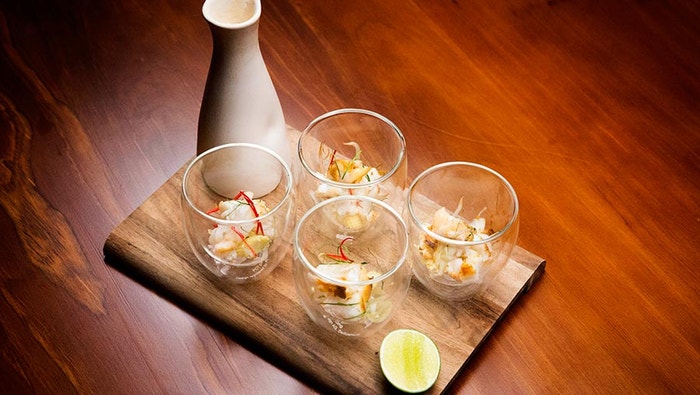 Steps
Prepare a smoking gun with applewood chips.
Separate lobster head from tail. Carefully remove tail meat from the shell and place in a small bowl. Cover the bowl tightly with cling film. Insert the tip of the hose of the smoking gun into the bowl and seal tightly. Light the smoking gun and allow the bowl to fill with smoke. Remove the smoking gun, reseal the bowl tightly and place in the fridge until needed.
Chop the lobster head into very small pieces using a cleaver.
Heat a large frypan over high heat. Add the oil and the chopped lobster head and fry until caramelised. Transfer to a powerful blender with 150g of the butter and process until smooth. Pass through a fine sieve and set aside until needed.
For the Thom Kha Soup, place ginger, garlic, coriander root, chillies and lemongrass into the bowl of a small food processor and blitz to a coarse paste.
Heat a large frypan over high heat, add oil and aromatics paste and fry paste for 2 minutes until fragrant. Add coconut milk, lime, kaffir lime leaves, fish sauce and stock and simmer for 20 minutes until reduced slightly. Season to taste and set aside, keeping hot until needed.
To finish the Lobster, place remaining 100g butter into a small frypan over low heat. When melted, add smoked lobster tail meat and poach gently in the butter, basting regularly, for 3-4 minutes or until just cooked through. Remove lobster meat from pan and break apart into small chunks. Reserve any remaining pan butter and juices for serving. Divide the lobster meat evenly between 4 heat-proof serving glasses.
Chop the baby corn and place on top of the lobster meat, dividing evenly between the serving glasses. Top each glass with bean shoots and lime zest. Fill the glasses with hot Tom Kha Soup and garnish with shredded lime leaf and shredded chilli. Pour the reserved pan butter and juices into a serving jug and serve with on the side to drizzle over the soup just before eating.