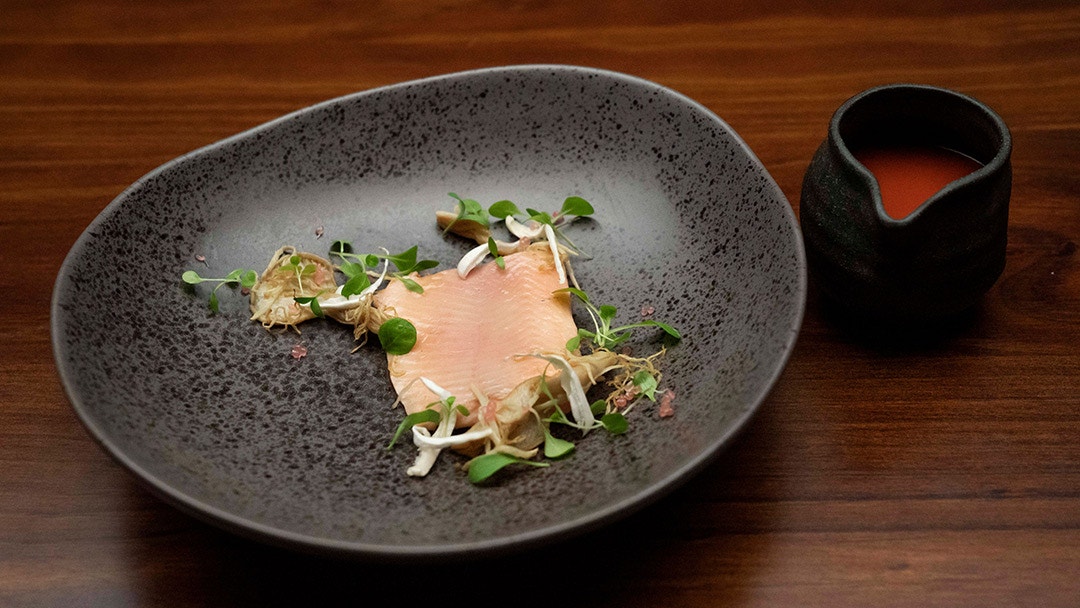 Ingredients
Lemongrass Smoked Rainbow Trout
Steps
Preheat oven to 200C.
To prepare the rainbow trouts, remove the fillets, keeping the skin on. Pin bone the fillets and set aside in the fridge. Chop the frames finely and set all bones aside.
For the Sweet and Sour Broth, place the shrimp paste onto a small sheet of foil and place into the oven for 3-5 minutes until toasted and fragrant. Remove from the oven and set aside.
Heat a large saucepan over medium heat with some grapeseed oil. Add the fish bones and fry until lightly caramelised. Add the shallots, ginger, garlic and lemongrass. Cook until fragrant, about 2 minutes.
Add the fish stock, tomatoes, fish sauce, tomato paste and palm sugar and 1 litre water. Allow stock boil for 35 – 40 minutes
Add the toasted shrimp paste and stir to dissolve.
Strain broth through a fine sieve into a large saucepan and add lime juice and salt, to taste. Cover with a lid to keep hot. Return to the boil to serve.
For the Lemongrass Smoked Rainbow Trout, drain the lemongrass and chop into 2cm pieces.
Line the inside of a wok with foil. Using another piece of foil, shape a wide shallow bowl and position in the centre of the wok.
For the smoking mixture, place the rice and sugar to the lemongrass and mix until evenly combined. Pour into the foil bowl.
Line a large bamboo steamer with baking paper and pierce with a knife to create holes. Cover with a lid, place into the wok and place wok over high heat.
Once smoke begins to fill the basket, after about 5 minutes, place the trout fillets into the steamer, skin side down. Cover and smoke the fillets until just cooked, about 4-6 minutes.
Remove the trout from the steaming basket and discard the skin. Place a fillet into each serving bowl and set aside.
For the Sautéed Oyster Mushrooms, place a small fry pan over medium heat. Add the grapeseed oil.
Add the ginger and mushrooms and sauté until soft and golden, about 5 minutes. Remove from the heat.
To serve, scatter the Sautéed Oyster Mushrooms and ginger around the trout. Top with basil leaves and pour the hot broth around the trout and serve immediately.