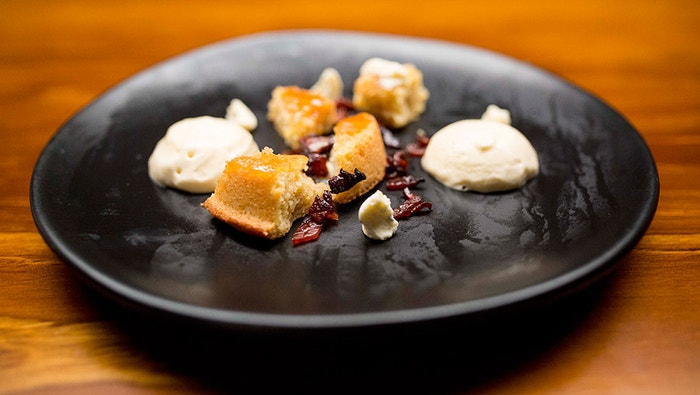 Steps
Preheat oven to 180C.
For the Honey Semifreddo, place egg, yolk and sugar into a bowl and sit over simmering water. Whisk until thick and pale, about 6-7 minutes. Remove from heat, warm the honey in the microwave and whisk into the egg mixture until combined.
Meanwhile, whip cream to stiff peaks then gently fold through egg mixture. Pour mixture into 12 x 6 cm moulds and place in the freezer until set.
For the Lemon Syrup Cake, grease 6 x 10cm muffin tins with some butter and flour.
Cream butter and ½ a cup of the caster sugar in a stand up mixer fitted with a paddle attachment. Add egg and mix to combine, then fold in flour and cinnamon.
Pour mixture into greased muffin tins and bake until golden, about 20-25 minutes. Remove from oven and set aside to cool in the tray.
Meanwhile, place remaining caster sugar, lemon juice and zest in a small saucepan and bring to the boil. Reduce heat and simmer until a thin syrup consistency, about 10 minutes.
Turn cooled cakes out, up side down, onto a tray and drizzle with lemon syrup. Set aside.
For the Honey Bacon Crumb, heat a frypan, then add bacon and fry until slightly browned. Add honey, stir to coat bacon pieces and fry until crisp.
Transfer bacon to a paper lined baking tray, sprinkle with sugar and place into the oven until crisp, about 5-7 minutes. Remove from oven and finely chop, set aside.
For the Cinnamon Cream, whip cream to soft peaks. Add sugar and cinnamon and whisk until combined.
To serve, cut Lemon Syrup Cake into triangles and arrange on plate. Sprinkle some Honey Bacon Crumb around plate and add Semifreddo domes. Finish with some dots of Cinnamon Cream.