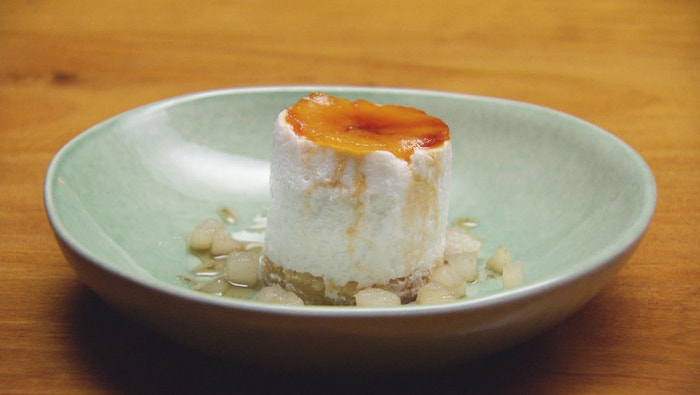 Steps
Preheat oven to 120C.
For the meringue, whisk egg whites and sugar over a pot of simmering water until the sugar has dissolved. Transfer to a mixer and whisk on high speed until soft peaks form.
Lightly grease 4 x 6cm diameter 125ml capacity ramekins and pipe meringue mixture in, leveling the top of the ramekins with a palette knife. Place ramekins into a deep baking dish. Pour boiling water into the baking dish until it comes halfway up the sides of the ramekins. Cover with foil and bake until set, about 20 minutes. Remove from the oven and place ramekins into the fridge to cool.
For the lemon curd, whisk lemon juice, eggs, yolks and caster sugar over a pot of simmering water until it has thickened, taking care not to over cook the mix. Whisk in butter, a little at a time until all of the butter has been incorporated into the curd. Transfer curd to a piping bag and place in fridge to cool.
Increase oven to 180C.
For the peanut biscuit, beat eggs and sugar until light and fluffy, about 5 minutes. Blitz peanuts to a fine crumble and mix with flour. Melt butter, stir in flour and peanut crumbs, then fold in egg mixture. Pour into a lined baking tray and bake until golden, about 15 minutes. Use a 5cm cutter to cut the biscuits into discs.
For the caramelised pear, peel pear and cut 4 x 2mm slices, slicing from the bottom of the pear. Using a 5cm cutter, cut pears into equal size discs. Cut the core out of the rounds. Heat sugar in a saucepan and cook until dark in colour. Place the slices in the caramel. Allow to cook for 1 minute and turn carefully and cook for another minute. Remove from caramel and place on a piece of baking paper to cool.
For the poached pear, heat ginger ale in a small saucepan over medium heat. Add pear and poach until just cooked through but still firm, about 5 minutes. Remove pear from liquid and continue to simmer liquid until reduced to a syrup. Remove from heat and set aside.
To serve, invert the meringue from the ramekin. Use a 5cm cutter to cut the meringue and use a melon baller to remove the middle of the meringue. Pipe in lemon curd. Place the meringue onto a peanut biscuit disc and place onto a plate. Garnish with a caramelised pear slice and sprinkle poached pears around the base. Drizzle with ginger ale syrup.