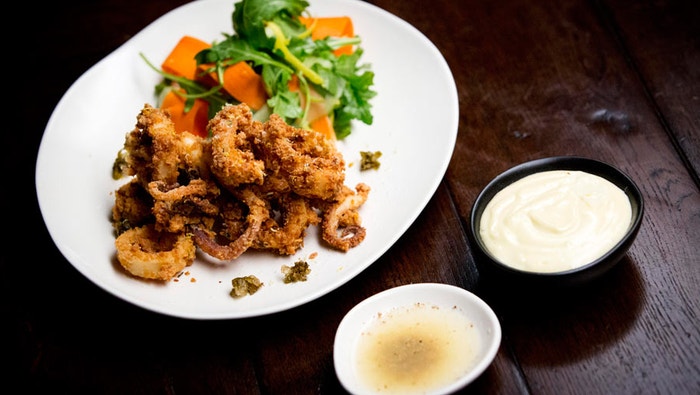 Steps
For the Lemon Honey Mayonnaise, mayo, combine egg, vinegar and mustard in a small food processor and blitz until emulsified. With motor running, add oil in thin stream and blend until thick. Add lemon juice and honey and pulse quickly to combine. Remove mayonnaise from the blender, season to taste and set aside in fridge until needed.
For the Lemon Pepper Dipping Sauce, strain lemon juice through a fine sieve and place into a small bowl. Grind pepper into bowl and mix in sugar and salt to taste. Stir to combine and set aside until needed.
For the Pickled Lemon Rind, finely slice the lemon rind and place into a small bowl. Add remaining ingredients and mix well to combine. Set aside for 20 minutes to pickle.
For the Salad, use a vegetable peeler to slice cucumber and carrot into thin strips and place into a medium bowl. Add rocket leaves, toss to combine and set aside until needed.
Heat oil to 180C in a small saucepan for deep frying.
For the Fried Capers, blot capers on kitchen paper to dry, then lightly score the tops. Drop the capers into the pre-heated oil and deep fry for 2 minutes until capers open and are crispy. Remove from oil and drain on kitchen paper until needed.
For the Calamari, prepare the crumb by placing toasted bread, cornflakes, lemon zest, thyme leaves and salt into a food processor and blitz to a fine crumb. Place crumb mixture into a large, shallow bowl. Place lightly beaten eggs into a separate shallow bowl.
Slice calamari hood into 1 cm rings and tentacles into 6cm lengths.
Increase oil temp to 190C.
Dip calamari pieces into egg, allow excess to drip off then place into crumb mixture and toss to coat well.
Place several pieces of calamari, a batch at a time, into the hot oil and deep fry for 1 minute, or until golden. Drain on kitchen paper until ready to serve. Repeat with remaining calamari.
To serve, add the Pickled Lemon Rind and the pickling liquid to the Salad, toss well to combine and divide between 4 serving plates. Divide the Calamari evenly between the serving plates, placing on top of the salad. Serve with Lemon Honey Mayonnaise on the side.