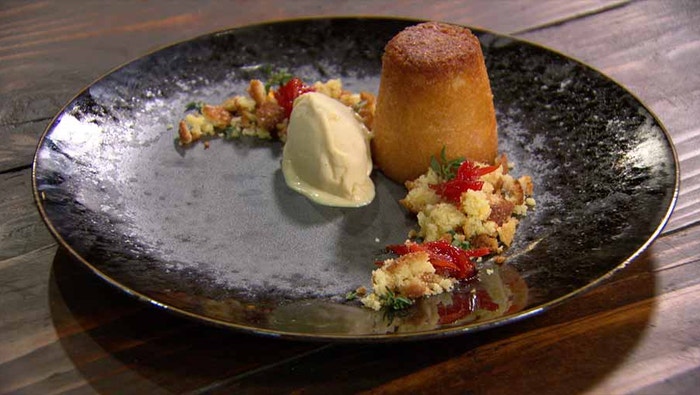 Steps
Preheat oven to 180C. Turn on ice cream machine to chill according to manufacturers instructions.
For the Lemon Drizzle Cake, grease and flour 4 by 6.5cm wide x 6cm high metal dariole moulds. Sit greased moulds onto a baking tray and set aside.
Place butter, lemon zest and 100g of the sugar into the bowl of an electric mixer fitted with a whisk attachment and whisk until pale and fluffy. With the mixer still running, add eggs, one at a time, until fully incorporated. Add flour and 1 tablespoon of the lemon juice and continue to whisk until smooth. Spoon the mixture into the greased moulds to 2/3 full. Use the back of a spoon to smooth the surfaces. Bake in the oven until risen and golden, about 25-30 minutes. Remove from oven and set aside cool slightly.
Meanwhile, make the syrup by placing the remaining lemon juice and caster sugar into a small saucepan over medium heat and stir until dissolved.
Turn the cakes onto a clean chopping board. Trim 1cm off the base of each cake and set the trimmings aside. Stand cakes, cut side down, on a wire rack sitting over a tray. Use a dessert spoon to pour half of the syrup over the cakes, ensuring they are completely coated. Allow cakes to stand for 5 minutes. Pour remaining syrup over cakes. Set aside until needed.
For the Lemon Honey and Thyme Ice Cream, place egg yolks and honey in a medium bowl and whisk together until pale.
Place remaining ingredients in a medium saucepan and bring to just below boiling point. Remove from heat and remove and discard the thyme. Whisking continuously, slowly pour the milk cream mixture into the yolks and sugar until combined. Pour mixture back into the saucepan over low heat and stir until mixture thickens and coats the back of a spoon, about 2-3 minutes.
Remove from heat and pass through a fine sieve into a clean bowl. Set bowl over an ice bath to cool anglaise completely. Once cold, transfer to ice cream machine and churn until set, about 25 minutes. Once set, transfer to the freezer until required.
For the Lemon and Blood Orange Marmalade, use a peeler to remove zest of all blood oranges and lemons then cut into matchsticks. Juice fruit into a small saucepan and reserve the pips. Place pips in a small square of muslin cloth and tie up with string to create a parcel. Add pips, zest and ½ a cup of water to the saucepan over medium heat and bring to the boil, then reduce heat and simmer until zest has just softened, about 10 minutes. Stir in sugar, increase heat and boil until mixture reaches 104C. Remove from heat, discard muslin parcel of pips and set saucepan aside until required.
To plate, place one of the Lemon Drizzle Cakes, cut side down, on a plate. Crumble some of the reserved cake trimmings and scatter on either side of the cake. Place small spoonsful of the Lemon and Blood Orange Marmalade amongst the crumbled trimmings and add some thyme leaves. Finish with a quenelle of Lemon Honey and Thyme Ice Cream.