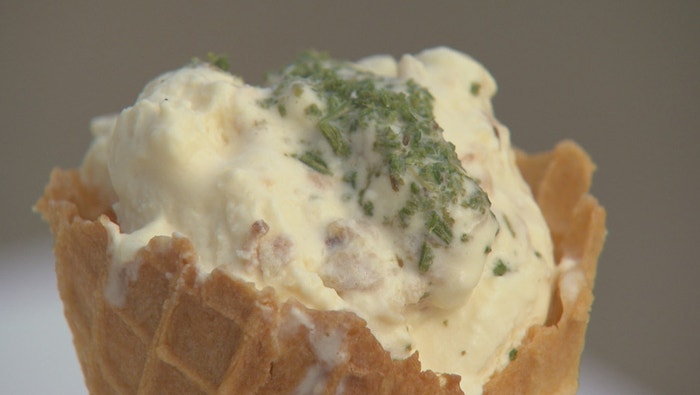 Steps
Preheat oven to 160C. Turn on ice cream machine to chill.
Place the milk and lemon zest into a medium saucepan over medium heat and bring just to the boil then remove from heat. Cover and set aside to infuse for 30 minutes. Strain through a fine sieve and set aside.
Place pine nuts onto a baking tray lined with baking paper and roast in the oven until golden brown, about 6-8 minutes. Remove from oven and sprinkle with salt. Set aside to cool completely. Once cool, transfer to a food processor and blitz until most of the pine nuts are just split in half. Set aside.
Place egg yolks and sugar into a stand mixer fitted with a whisk attachment and beat until light and fluffy. With the mixer running on half speed, slowly add the reserved lemon infused milk and mix until combined. Slowly add cream and continue mixing until well combined.
Transfer mixture to a saucepan over low heat and gently whisk until slightly thickened. Remove from heat, add rosemary sprigs and set aside to infuse for 5 minutes. Strain into a clean bowl. Season with salt and lemon juice, to taste, and set over an ice bath until completely cool. Transfer to pre-chilled ice cream machine and churn according to manufacturers instructions until set.
Once set, stir through reserved pine nuts and set ice cream aside in the freezer.
For the Rosemary Salt, combine rosemary leaves salt flakes in a food processor or spice grinder to a fine powder. Set aside.
To serve, scoop ice cream into waffle cones or cups and sprinkle with Rosemary Salt.