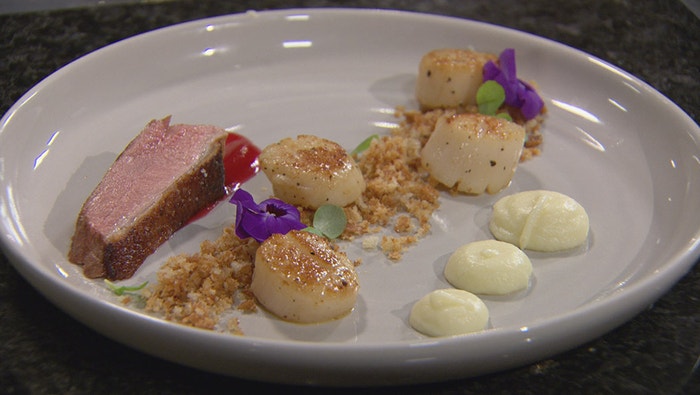 Steps
Preheat oven to 200C.
To make the Parmesan Crumb, line a baking tray with baking paper. Cut ciabatta into small pieces and spread over tray. Grate parmesan over the top, drizzle with olive oil and season. Place into the oven and bake for 5 minutes then stir to turn pieces and continue baking until golden, about 5 minutes. Remove from oven and allow to cool. Place into a food processor and blitz to a coarse crumb, set aside.
To make the Parsnip Puree, combine parsnip, milk and cream in a medium saucepan. Cover and simmer over low heat until soft, about 10-12 minutes. Strain parsnips and reserve liquid. Place parsnips into a bowl and use a stick blender to puree, adding small amounts of reserved milk liquid until smooth. Season to taste, pass through a fine sieve and transfer into a squeeze bottle. Set aside.
To make the Blood Orange Gel, place 75ml of the blood orange juice, sugar and agar into a small saucepan and whisk over high heat until foaming. Reduce heat and simmer, whisking continuously for a further 3 minutes. Remove from heat and whisk in remaining blood orange juice. Pour into a small baking tray and place into the freezer until set.
Once set, remove gel from freezer and cut into cubes. Place cubes into a food processor and blitz until smooth. Pass gel through a fine sieve and transfer gel into a squeeze bottle. Set aside.
To prepare the Duck Breast, score skin and season both sides. Place duck into a cold frypan, skin side down, and set on medium heat. Cook until skin is crisp and turn over to seal the other side. Turn duck skin side down again and place into oven until just cooked, about 5-7 minutes. Remove from oven and set aside to rest.
To cook the Scallops, heat oil in a small frypan over medium-high heat. Season scallops with salt and pepper and add to pan, cook until caramelised. Add butter to pan and flip to seal other side, about 1 -2 minutes.
To serve, spread a line of parmesan crumb onto plate and arrange scallops on top. Smear some blood orange gel onto one side of the plate and top with a slice of duck. Squeeze mounds of parsnip puree along the other side of the crumb and finish with some purple pansy flowers and micro coriander.