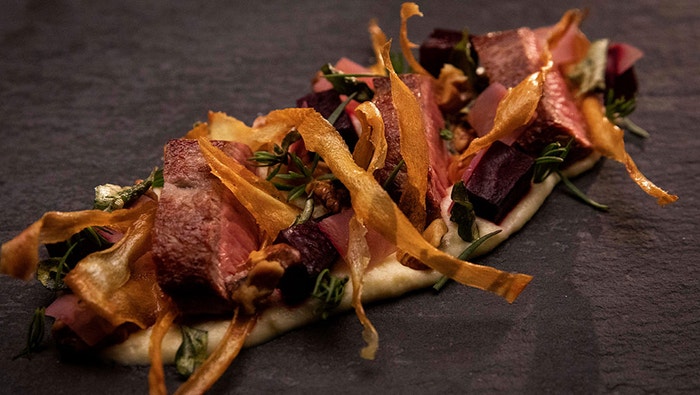 Steps
Preheat oven to 180C and preheat oil in deep fryer or saucepan to 180C.
For the Roasted Beetroot, cut each beetroot into quarters and place onto a square of foil. Drizzle with olive oil and season lightly with salt. Enclose foil around beetroot then place into oven and cook until beetroot is tender, about 35-40 minutes. Remove from the oven and allow to cool slightly. Cut each beetroot quarter in half and season lightly with salt. Set aside on the bench.
For the Pickled Beetroot, bring a small saucepan of water to the boil. Reduce heat and allow to simmer.
Place the rice wine vinegar, caster sugar, salt, and 200ml of cold water into a small saucepan. Place over a high heat and stir to dissolve the sugar and salt. Bring to the boil then remove from heat.
Trim each beetroot into a cube then use a mandolin to slice the beetroot cubes very thinly.
Place the beetroot slices into the boiling water and simmer for 3 minutes. Drain thoroughly then place into a glass bowl. Pour pickling mixture over then set aside to pickle for 30 minutes. Drain the beetroot slices well then cut the slices into 4 squares. Set aside.
For the Parsnip Puree, cut the parsnips into quarters lengthways. Trim away the core then cut the parsnip into 3cm pieces. Place into a small saucepan along with the milk and cream and place over a low heat. Bring to a simmer and cook, stirring regularly, until tender, about 20 to 25 minutes.
Remove from the heat. Drain liquid into a small bowl and reserve. Using a stick blender, blend the parsnip along with a little reserved cooking liquid until smooth. Stir through the butter then pass the puree through a very fine sieve into a clean saucepan and season with salt, to taste. Cover with a lid and set aside.
For the Roasted Walnuts, line a small tray with baking paper and set aside. Spread walnuts over the tray and drizzle with olive oil. Place in the preheated oven and cook stirring occasionally, until golden brown, around 10 to 15 minutes. Remove from oven, season with salt and set aside on the bench to cool.
For the Parsnip Chips, use a vegetable peeler to slice parsnip into long thin slices, avoiding the core. Fry slices of parsnip in the preheated oil until golden and crisp, about 2-3 minutes. Remove from oil and drain on kitchen paper.
For the Seared Lamb Back Strap, pat lamb back straps with paper towel and season with salt. Place a non stick frypan over a high heat. When hot, add canola oil and heat until oil is shimmering. Add lamb to the frypan and cook each side for around 2-3 minutes or until cooked to your liking.
Remove lamb from the pan (reserving oil in the pan) and rest on a clean chopping board for 8 to 10 minutes. Slice into 1cm slices and season with salt.
Add saltbush leaves to the reserved pan of oil and cook until they are lightly golden, about 1-2 minutes. Remove pan from the heat and set aside on paper towel.
To serve, spoon Parsnip Puree onto each plate and spread across plate. Arrange lamb slices over the puree and add Parsnip Chips on each side of the lamb slices. Scatter the Roasted and Pickled Beetroots and Roasted Walnuts around the puree. Finish each plate with some Fried Saltbush leaves and sea blite.