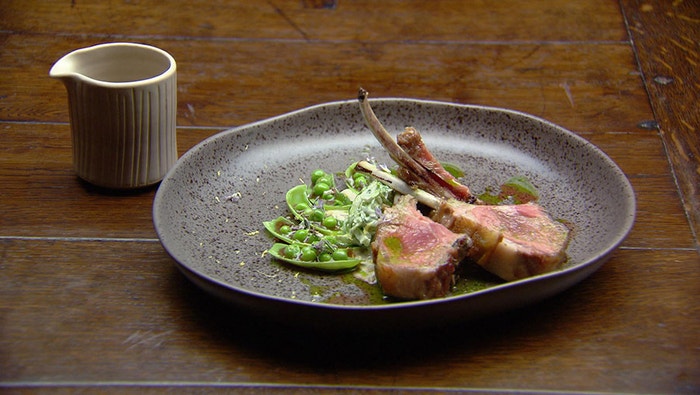 Steps
Preheat oven to 180C.
For the Lamb Cutlets, trim and French lamb racks and set aside. Reserve trimmings for Lamb Sauce.
For the Lamb Sauce, place a medium sized roasting tray over high heat. Add grapeseed oil and chicken pieces and cook until golden. Add onion, carrot and celery and cook, stirring regularly, until browned. Add red wine and reduce by half. Add chicken stock and reduced by two – thirds. Strain and set aside.
Meanwhile, place grapeseed oil and lamb trimmings in a medium saucepan and set over medium high heat. Cook until brown then add strained liquid and rosemary. Simmer for 1 minute then strain through a fine sieve. Remove from heat and season. Reserve 20mls for Sugar Snap Peas then cover remaining and set aside until serving.
For the Eggplant Puree, place eggplant over direct flame on stove top and cook, turning, until skin has blackened and flesh is tender. Transfer to a bowl and cover with cling film and allow to rest for 10 minutes. Remove and discard skin from eggplant then transfer flesh to a food processor. Add mayonnaise, lemon juice, salt and pepper and blend until smooth. Set aside until serving.
For the Lamb Rack, score the fat on the trimmed lamb racks and season with salt. Heat a large ovenproof frypan over medium high heat. Place lamb into pan, fat side down and cook until fat caramelises. Transfer to the oven and cook for 12 minutes for rare or until cooked to your liking. Remove from pan and rest for 5-6 minutes or until serving.
For the Minted Iceberg, thinly slice the lettuce and mint leaves and place in a small bowl. Fold in sour cream and season to taste. Cover and set aside in the fridge until serving.
For the Mint Oil, place all ingredients in a medium saucepan and place over medium-low heat. Continue heating to 80C while using a stick blender to puree ingredients. Remove immediately from heat and pass through a muslin lined, fine sieve. Set aside in fridge until serving.
For the Sugar Snap Peas, split pea pods open, remove peas, reserving pods and warm peas in lamb sauce. Return peas to pods and set aside until serving.
To serve, spoon Eggplant Puree into the centre of each serving plate. Place a spoonful of Minted Iceberg on puree and arrange Sugar Snap Peas on the plate. Carve Lamb into cutlets and add to the plate. Drizzle plate with Mint Oil and garnish with rosemary flowers. Serve with Lamb Sauce on the side.