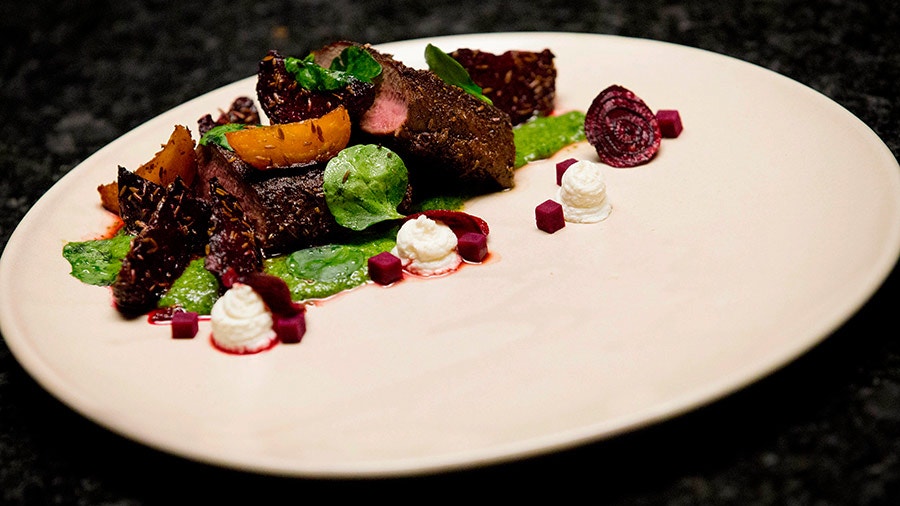 Steps
Preheat oven to 180C.
For the Roasted Beetroots, place cumin seeds into a dry small frypan over medium heat and toast until fragrant, then remove from heat and set aside.
Place all beetroots into a bowl, drizzle with olive oil and season with salt. Toss to coat evenly then transfer onto a sheet of aluminium foil. Wrap aluminium foil around the beetroots and seal to create a parcel then transfer to a baking tray. Place tray into the oven and roast until beetroots are just tender, about 40-45 minutes.
Meanwhile, take 2 teaspoons of the reserved toasted cumin seeds and lightly crush in a mortar and pestle.
Once beetroots are ready, remove from oven and unwrap from the foil. Sprinkle crushed cumin seeds over the beetroots and toss to evenly coat. Place tray of unwrapped beetroots back into the oven until slightly crisp on the outside, about 10 minutes. Remove from oven and set aside until required.
For the Beetroot Crisps, line a baking tray with baking paper. Use a mandolin to slice beetroot thinly. Use a 6cm ring cutter to cut the beetroot slices into perfectly round discs.
Transfer beetroot discs to a bowl with oil and toss to coat. Season with salt and lay slices out onto pre-lined baking tray, ensuring slices are not overlapping. Place into the oven for 10 minutes then turn slices over and continue to cook until completely crisp, about 4-5 minutes. Remove tray from oven and set aside until required.
For the Pickled Beetroot, place vinegar, sugar, salt and ½ a cup of water in a small saucepan and stir to combine. Place over low heat and cook until the sugar has dissolved. Remove from heat and add 1 tablespoon of the roasted cumin seeds. Set liquid aside to cool for 10 minutes.
Place cubed beetroot into a small bowl. Once pickling liquid has cooled, strain through a fine sieve into the bowl of beetroots and then set aside to pickle until required.
For the Whipped Goats Cheese, place goats cheese and crème fraiche in a small bowl and whisk well until smooth. Transfer to a piping bag and set aside in the fridge until required.
For the Watercress Salsa Verde, place all ingredients into a food processor and blitz until smooth. Adjust seasoning with salt and lemon juice, to taste, and then set aside until required.
For the Lamb Backstrap, season backstraps well with salt. Place 2 tablespoons of the reserved roasted cumin seeds into a mortar and pestle and grind to a fine powder. Place backstraps into a bowl, add cumin powder, and toss to coat evenly.
Heat a medium sized oven-safe frypan over medium heat. Add oil then add backstraps and seal for 2 minutes on each side. Add butter and swirl pan to melt. Spoon melted butter over the back straps to coat, then transfer to the oven and cook until still pink in the middle, about 3 – 4 minutes. Remove from oven and set aside to rest for 20 minutes.
For the Fresh Watercress, place oil, lemon juice and a pinch of salt in a small bowl and whisk to combine. Add picked watercress leaves and gently toss to coat. Remove leaves and lay on paper towel to remove excess vinaigrette.
To plate, place a tablespoon of the Watercress Salsa Verde to one side of each serving plate then use a spoon to smear into a crescent shape. Cut the lamb back straps in half and arrange, slightly overlapping, on top of the salsa verde. Add some Roasted Beetroots around the pieces of lamb. Pipe 3 mounds of the Whipped Goats Cheese along the salsa verde on the inner side. Arrange some pieces of the Pickled Beetroot and Beetroot Crisp around the mounds of whipped goats curd then finish with some leaves of Fresh Watercress.