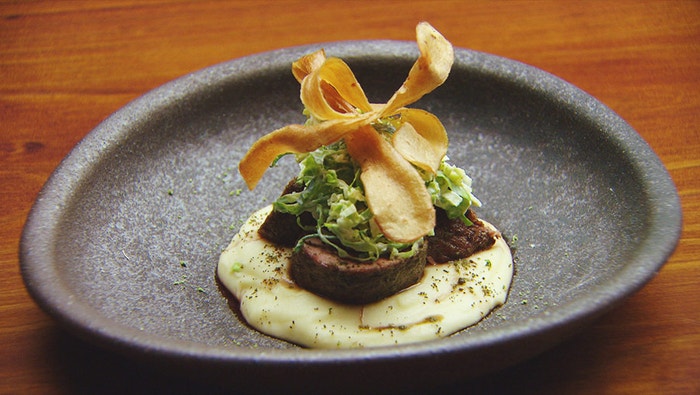 Steps
Preheat oven to 180C. Preheat oil in a medium saucepan to 170C.
For the Rosemary Salt, place ingredients into a spice grinder and process into a semi-fine powder. Set aside.
For the Parsnip and Leek Puree, place all ingredients, except butter, along with ½ cup water into a saucepan and bring to the boil. Reduce the heat to low and simmer until parsnips are fully cooked, about 20-25 minutes.
Transfer the parsnip and leeks to food processor, reserving the cooking liquid. Add the butter and process, adding a little cooking liquid if required, to achieve a smooth soft puree. Pass through a fine sieve and season with salt and pepper, to taste. Set aside, keeping warm.
For the Lamb Loin, rub the trimmed loins lightly with Rosemary Salt and pepper and set aside for 15 minutes before cooking.
Place oil in a large oven safe non-stick frypan over medium heat. Add the lamb and cook until browned, about 2 minutes on each side. Transfer to the oven and cook until the internal temperature of the lamb reaches 50C. Remove from the oven and set the lamb aside to rest before slicing thickly to serve.
For the Parsnip Chips, place parsnip strips into the hot oil and fry until golden. Remove from the oil and place onto paper towel. Season with salt while hot.
To serve, place a mound of puree onto each plate and top with slices of lamb. Sprinkle with Rosemary Salt. Top with Lemon Yoghurt and Brussels Slaw and Parsnip Chips and a sprinkle of Rosemary Salt.