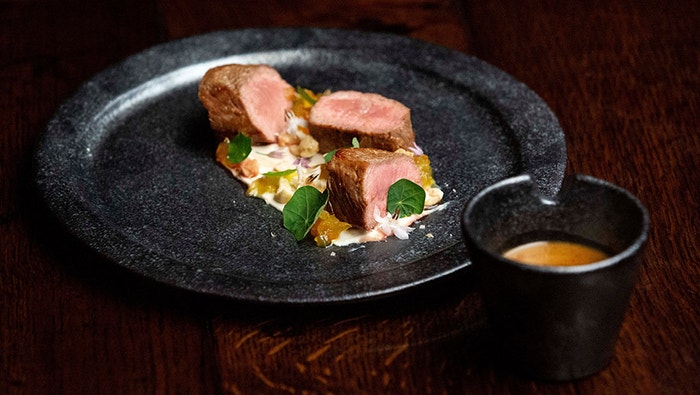 Steps
Preheat oven to 180C.
For the Lamb Fillet, remove the fillets from the rack and trim. Season generously with salt and set aside for 30 minutes.
Place a deep medium frypan over medium high heat. Finely chop half of the bones (discard the remainder) and place into the hot pan with the lamb trimmings and 2 teaspoons oil. Cook until well browned, stirring occasionally.
Add the onion, carrot, celery, garlic, thyme and a pinch of salt to the pan and cook, stirring, until golden.
Add the wine and simmer until reduced by 2/3. Add the stock and simmer until liquid has reduced and thickened slightly. Remove from the heat and strain through a fine sieve into a clean saucepan. Cover and set aside. Return to a simmer to serve.
For the Onion Marmalade, place the oil and the onion into a small saucepan over a low heat. Cook, stirring regularly, until soft and translucent. Add the orange zest and juice and simmer until the juice has almost evaporated.
Add the white wine, sugar, salt and 200ml water and simmer to a soft and sticky consistency. Transfer to a small serving dish and set aside.
For the Smoked Tahini Yoghurt, place ingredients into a bowl and mix until combined. Cover the bowl tightly with cling film. Using a smoking gun, fill the bowl with smoke, reseal cling film and set aside to infuse for 10 minutes. Stir the mixture and set aside.
For the Lamb Fillet, place a medium oven-safe frypan over a medium high heat. Drizzle the lamb fillets with oil and place into the pan. Cook for 1-2 minutes on each side until browned then transfer the pan to the oven and cook until the temperature of the lamb reaches 50C, about 5-7 minutes or longer until cooked to your liking. Remove from the oven and set aside to rest for 10 minutes. Slice the fillets to serve.
To serve, spoon the Smoked Tahini Yoghurt onto each serving plate. Arrange slices of Lamb Fillet over top and dot with Onion Marmalade. Garnish with spring onion, flowers and leaves and then drizzle with the Lamb Jus.