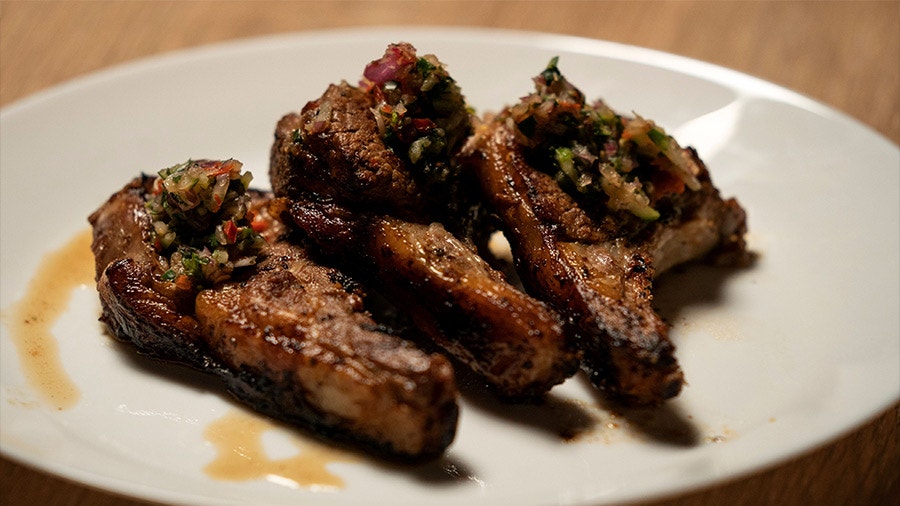 Steps
For the Marinade, place all ingredients, except the lamb, into a food processor and blend to a smooth paste. Transfer to a deep baking dish.
Add the lamb cutlets and toss to coat in the marinade. Set aside for at 30 minutes.
When ready to cook, preheat a large grill pan over medium high heat.
Season the cutlets with salt then place onto the hot grill. Cook for 2 minutes on each side and 1 minute on the outer edge to render the fat. Transfer to a serving plate.
For the Sambal Style Chutney, place the tamarind and palm sugar into a small saucepan over low heat. Add 2 tablespoons water and simmer until sugar dissolves and a thick syrup sauce forms, about 3-4 minutes.
Meanwhile, finely grate the onion, cucumber, ginger and chillies into a medium bowl. Add ¼ teaspoon salt and stir through. Set aside for 5 minutes then squeeze out moisture into the tamarind mixture and place the onion mixture into a small bowl. Continue to reduce the chutney until liquid is syrupy, about 5 minutes. Remove from the heat and set aside to cool slightly.
When ready to serve, combine the onion, coriander and mint with the tamarind mixture, season with salt and place into a serving bowl. Serve with the Lamb Cutlets.