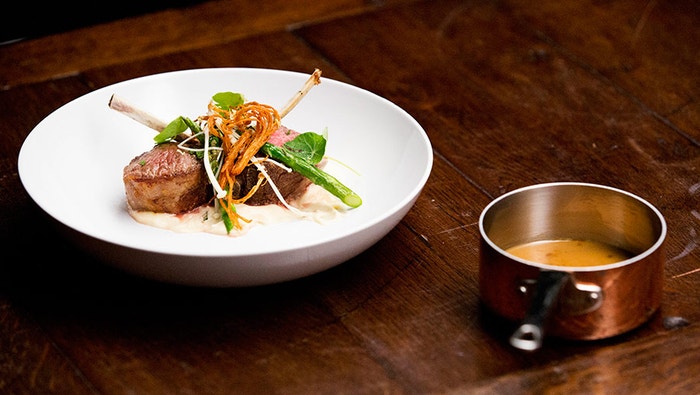 Steps
Preheat oven to 190C.
For the Sauce, place chopped lamb chops into a stove-safe deep roasting tray and drizzle with oil. Roast in the oven until golden, about 12-15 minutes.
Remove tray from the oven and place onto the stove over medium heat. Add garlic and shallots and cook until softened, about 2-3 minutes. Add thyme and deglaze with white wine then continue to cook until reduced by half, about 10-12 minutes. Add chicken stock and continue cooking until reduced by half. Strain into a medium saucepan over a medium heat and simmer until slightly thickened. Reserve half of the sauce in a cup to baste the lamb, and the remaining half in a jug for serving.
For the Parsnip Puree, place grated parsnip, garlic and ½ cup water in a medium saucepan over low heat. Cover and cook until soft, about 10-12 minutes. Remove from heat and allow to cool slightly. Transfer to a food processor with the butter and blitz to a smooth puree, about 1-2 minutes. Transfer puree to a bowl and seal with cling film. Insert the hose of a smoking gun and light the smoking gun chips, allowing the bowl to fill with smoke. Remove smoking gun hose, seal bowl tightly, and set aside for 10 minutes. Uncover and season to taste, set aside.
For the Pickled Enoki, place vinegar, sugar 50ml water into a small saucepan over low heat and heat until sugar has dissolved. Remove from heat and allow to cool. Add enoki mushrooms to liquid and set aside for 20 minutes. Drain and set aside.
For the Crispy Enoki, heat oil in a small saucepan to 190C. Add enokis and fry until golden, about 1-2 minutes. Remove from oil and set aside on paper towel to drain.
For the Lamb, season lamb with salt and pepper. Heat oil in a large oven-proof frypan over medium heat. Add the lamb racks and fry until golden brown on both sides. Flip lamb so that the fat is facing upward and baste with reserved half of the sauce. Cook in the oven for 8-12 minutes, or to your liking. Remove from oven and baste with remaining sauce. Set aside to rest for 5 minutes.
For the Asparagus, melt butter in a medium frypan over medium heat. Add asparagus spears and ½ cup water. Cook until asparagus has started to soften, about 3-4 minutes. Remove from heat, season and set aside.
To serve, spoon some Parsnip Puree onto each plate. Slice lamb racks into cutlets and place 2 cutlets on each plate on top of the puree. Add 2 spears of Asparagus and top with some Pickled Enoki and Crispy Enoki. Finish with nasturtium leaves, mint and lemon zest. Serve Sauce on the side.