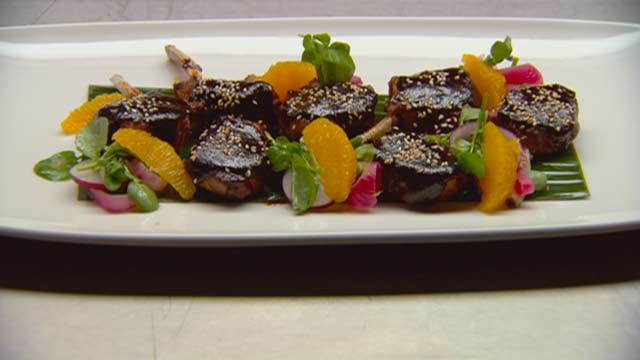 Steps
Mexican spice blend
For the spice blend, combine spices in a bowl and lightly coat with about 2 teaspoons water, then pour into a frying pan and toast over medium heat until warm and fragrant.
Transfer to a mortar and pestle or spice grinder and grind to a fine powder.
Strain through a sieve to remove any large pieces.
Red mole sauce
For the red mole sauce, preheat grill to high. Roast garlic and tomatillos in a baking dish for about 5 minutes each side until black and soft, turning occasionally.
Meanwhile, heat oil in a frying pan over low heat. Fry chillies for about 3 minutes until starting to colour. Add raisins, and cook for a further 2 minutes. Add tomatillos and garlic, cook for 2 minutes, then add chocolate, stirring until melted. Add stock, sesame seeds, almonds, spice blend and bread. Simmer gently for 20-30 minutes until slightly reduced, stirring often. Transfer mixture to a blender and puree until smooth, adding water if necessary. Strain through a fine sieve. Season to taste.
Yucatan-style pickles
Combine vinegar, sugar, orange zest and juice, cloves, cinnamon, oregano and garlic in a small saucepan, and bring to the boil.
Place eschalots and jalapenos in a bowl, then pour in hot pickle liquor. Set aside to pickle and cool.
Sherry vinaigrette
For the sherry vinaigrette, gently warm sherry vinegar and sherry to reduce acidity. Allow to cool, then whisk with remaining ingredients to combine.
Ancient grain salad
Combine pumpkin with 2 tablespoons sherry vinaigrette in a bowl. Add remaining ingredients to bowl and toss to combine. Transfer to a serving bowl. Sprinkle with ricotta, pepitas and edible flowers.
Lamb
Season lamb with smoked paprika and sea salt flakes, then drizzle with oil. Place a large frying pan over medium-high heat. Cook lamb, fat-side down, and gently fry for about 2-3 minutes each side or until completely browned and cooked to medium. Remove from pan, cover loosely with foil and set aside to rest.
Add agave syrup and vinegar to pan, and cook until thickened. Add mole and simmer to a rich glaze.
To serve
To serve, place banana leaf onto a platter and brush with oil.
Carefully top lamb cutlets with mole, sprinkle with sesame seeds and arrange on platter.
Add radish, watercress, drained pickles and orange juice to a bowl, and toss to combine. Garnish platter with pickle mixture and orange segments, and serve salad to the side.
Notes
*You can use any remaining mole sauce on grilled meats. Store in an airtight container in the fridge for up to 2 weeks.