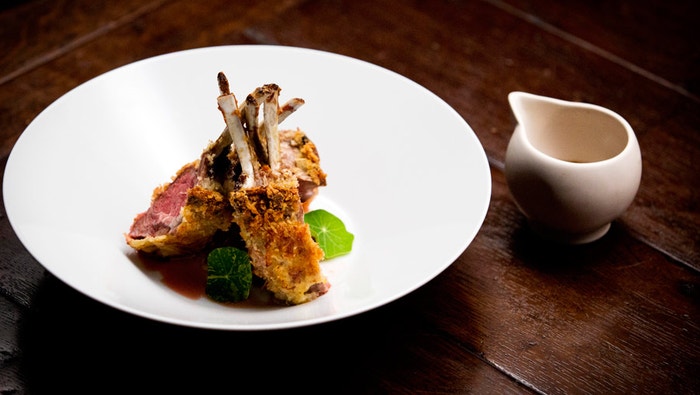 Steps
Preheat oven to 220C.
For the Red Wine Jus, Heat a large saucepan or braising pan on the stovetop over high heat. Add the oil and the lamb bones and fry until brown and caramelised. Remove bones from pan and set aside on paper towel to drain.
Add carrots, celery, garlic and thyme to pan and fry until softened and golden brown. Return lamb bones to pan then deglaze with red wine. Add veal stock, reduce heat and simmer until reduced by half. Strain into a clean saucepan and set aside until needed.
For the Pumpkin Puree, heat a large saucepan on the stovetop over high heat. Add oil and diced pumpkin and toss until lightly caramelised.
Transfer the pumpkin to a baking tray lined with baking paper and place in the pre-heated oven for 20 minutes, or until golden and tender.
Transfer the pumpkin to a food processor. Add cream and salt and pepper to taste and blend until very smooth. When smooth, pass the purée through a fine sieve and set aside, keeping warm until needed.
For the Caramelised Onions, slice onions thinly and place in a medium saucepan along with ½ a tablespoon of the butter. Cover the saucepan tightly with a lid, place on the stove top over low heat and cook for 12-15, stirring frequently until onions are very soft. Remove the lid, add the butter and cook, uncovered, for a further 7-8 minutes until golden and caramelised. Set aside, keeping warm until needed.
For the Lamb Cutlets, trim and French the lamb racks and season well.
Place panko crumbs into a large, shallow bowl and add the lemon zest. Mix well to combine. Place lightly beaten eggs into another large, shallow bowl. Dip lamb racks into eggs, ensuring they are well coated. Allow excess egg to drain off and then dip racks into the panko crumb mixture, pressing crumbs on firmly.
Place the lamb racks in a heavy based roasting pan, drizzle with the olive oil and bake in the pre-heated oven for 30 minutes until crust is golden or until lamb is cooked to your liking. Remove from oven and rest lamb for 3 minuted before serving.
To serve, slice lamb into double cutlets. Place 2 – 3 spoonsful of the Pumpkin Purée into the middle of each plate. Place 2 double cutlets to each plate, on top of the Pumpkin Purée. Add 1 – 2 spoonsful of the Caramelised Onion, scattered on top of the cutlets and around the plate. Garnish the plates with several nasturtium leaves. Divide warm Red Wine Jus between 4 individual serving jugs to serve on the side.