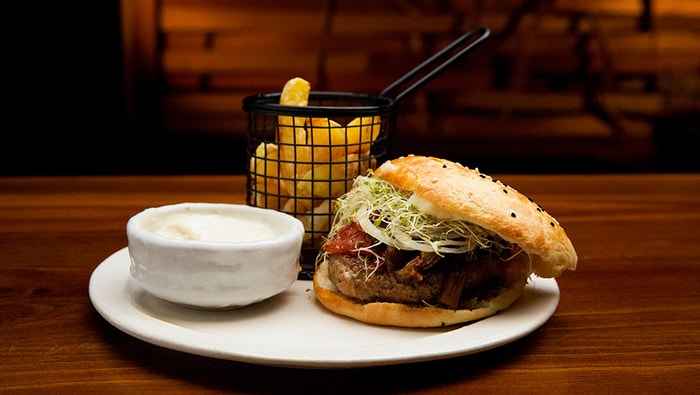 Steps
Preheat oven to 200C.
For the Tender Bread Buns, mix yeast with ¼ cup warm water in a bowl until yeast is fully dissolved. Add yoghurt, oil, and sugar and mix well until combined. Add flour and salt and 1-2 tablespoons of water to form a very soft dough. Knead lightly for 2 minutes until smooth. Place the dough into lightly oiled bowl and set aside to rise.
Punch down risen dough, then divide into 6 equal portions. Shape into balls and place on a lined tray. Cover with oiled cling film and set aside to rise until doubled in size. Once risen, brush with egg wash, sprinkle with both sesame and nigella seeds. Bake until golden brown, about 20 minutes. Remove from oven and set aside to cool.
For the Oven Roasted Potatoes, place potatoes into a saucepan and cover with water and season with salt. Bring to a boil, cook for 10 minutes, then drain and set aside to dry.
Place a baking dish into oven to heat. Remove from oven and add duck fat. Once melted, add the potatoes and toss well. Bake until golden and crisp, about 40-45 minutes. Remove from oven, sprinkle with salt and set aside until serving.
For the Eggplant and Tomato Relish, heat oil in a frypan, add eggplant and onion. Cook, stirring occasionally, until lightly browned, then add capsicum and cook until soft, about 4-5 minutes. Add tomatoes and cook stirring occasionally until soft then stir in the pomegranate molasses, chopped parsley and season to taste. Set aside until serving.
For the Lamb Patty, place lamb mince, onion, harissa paste, parsley and salt into a medium bowl. Knead the mixture until it binds together. Shape into 6 patties and place in fridge to set.
Place oil in a large frypan and set over high heat. Add patties and fry until just cooked through, about, 3-4 minutes each side. Brush each side with pomegranate molasses and cook each side until caramelised, about 30 seconds. Remove from frypan and set aside to rest until serving.
To serve, cut the Tender Burger Buns in half, brush the bottom half with mustard and the top half with mayonnaise. Place the Lamb Pattie on top of mustard, top with Eggplant Relish, onions, and alfalfa. Serve with Oven Roasted Potatoes on the side.