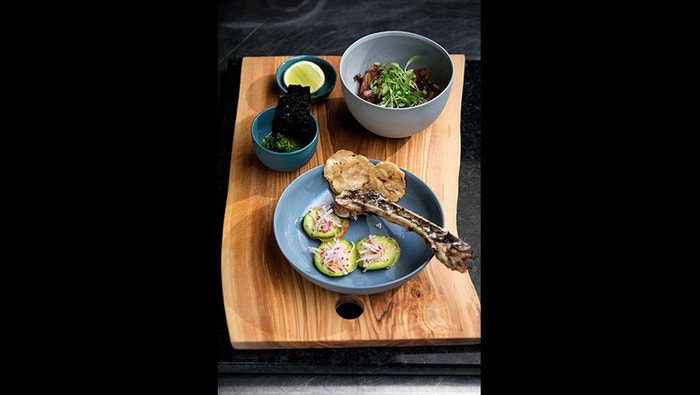 Steps
Preheat oven to 220C. Turn on pressure cooker to high/browning setting.
For the Lamb Stew, trim away any excess fat and sinew from the lamb shanks. Heat grapeseed oil in the preheated pressure cooker then add lamb shanks and brown on all sides.
Meanwhile, prepare the adobo sauce. Place tomatoes onto an open gas burner flame and char, turning occasionally, until the skin is charred and blistered on all sides. Remove from flame and allow to cool. Peel and discard skin then chop finely and set aside.
Remove the stems from the dried chillies, cut a slit down one side of each chilli, and then remove seeds by gently shaking. Heat a little light extra virgin olive oil in a frypan over high heat. Add the dried chillies and lightly fry until they change slightly in colour and become fragrant, about 10 seconds. Remove chillies from the pan and set aside, keeping the pan on the heat. Add the onions, garlic, and cumin seeds to the pan and cook, stirring, for 2 minutes.
Reduce heat to medium, add the tomatoes and sauté gently for 2 minutes. Add cloves, cinnamon, orange peel, bay, oregano, thyme, pepper and salt and stir to combine. Return chillies to the pan and add chicken stock and bring to the boil, then continue to boil for 3-4 minutes. Remove cinnamon stick then from the heat and allow to cool slightly then transfer to a blender with the vinegar. Blend until smooth then adjust seasoning if required.
Pour the adobo sauce over the browned lamb shanks then bring to the boil. Seal the pressure cooker and cook on high for 30 minutes.
Once the pressure cooker has depressurised, remove the lamb shanks and shred the meat into large pieces. Return the shredded meat to the pressure cooker and keep warm until needed.
For the Bone Marrow, place the bone marrow pieces, cut side facing up, on a baking tray lined with aluminium foil. Drizzle the marrow with olive oil and season with thyme, salt and pepper. Cook in the oven until the marrow has melted and browned, about 10-15 minutes, being careful not to overcook the marrow. Scrape the contents of one half of bone marrow over the other. Return marrow to oven, turn off heat and leave door ajar to keep marrow warm until ready for plating.
For the Pickled Shallots, thinly slice shallots and separate 12 of the smallest, roundest rings. Heat oil in a small frypan over medium heat. Add the shallot rings and gently fry for 30 seconds, without browning. Add apple cider vinegar, thyme, oregano, salt and pepper to taste. Turn off heat and leave to pickle.
For the Coriander Oil, place the oil in a small saucepan over a low to medium heat and bring to 80C. Remove from heat, add coriander and set aside to cool. Once cool, transfer to a blender and blend until combined. Season with a pinch of salt. Sit a fine sieve lined with muslin cloth over a clean bowl. Pour the coriander oil into the lined sieve and set aside to drip through.
For the White Corn Tostadas, place white corn masa (flour) and salt in a bowl and mix to combine. Make a well in the centre of the flour and pour in the warm water. Mix ingredients together into a soft dough (it should feel moist but not sticky), add a little more water if necessary.
Divide into 12 equal portions of dough, and roll into small balls. Using a Mexican tortilla press, flatten the balls to make thin tortillas.
Preheat a cast iron skillet pan or non-stick frying pan over a medium heat. Cook the tortillas until they begin to puff slightly, about 15 seconds then turn and cook for 15 seconds on the other side. Continue to turn the tortilla until it becomes light golden in colour. Remove pan from heat and leave the tortillas in the pan to allow them to dry out.
Heat oil in a frypan over high heat. Add the tostadas and fry until light brown and crisp on both sides. Remove from the pan and drain on paper towel, reserving the frypan for later use. Season with salt and set aside.
For the Coriander Salsa, place all ingredients in a bowl and mix to combine. Set aside until needed.
For the Mulato Chicharron, cut the mulato chilli in half, lengthways, and then half again to create rectangular pieces about 5cm x 3cm in size. Place the reserved frypan with grapeseed oil back over high heat, once hot, gently fry mulato piece, for 10-15 seconds on both sides. Once slightly cooled, the mulato should go from a pliable texture to being crispy. If the mulato is not crispy, return to oil and fry again slightly careful not to burn. Remove from oil and dry on paper towel and sprinkle with salt, to taste.
To serve, place shredded lamb pieces in a bowl and add some of the adobo sauce over the meat. Scatter with diced cucumber in a small heap and top with a small amount of micro coriander in the centre, then garnish with begonia flowers. Place the White Corn Tostadas onto a separate plate. Dress 6 tostadas with one slice of avocado each, a drop of lime juice, a few drops of the Coriander Oil, and in the centre, a small heap of radish. Place roasted bone marrow on plate and stand remaining tostadas next to the bone marrow. Place coriander salsa into a small serving bowl and add the Mulato Chicharrons. Serve with lime cheeks on the side.