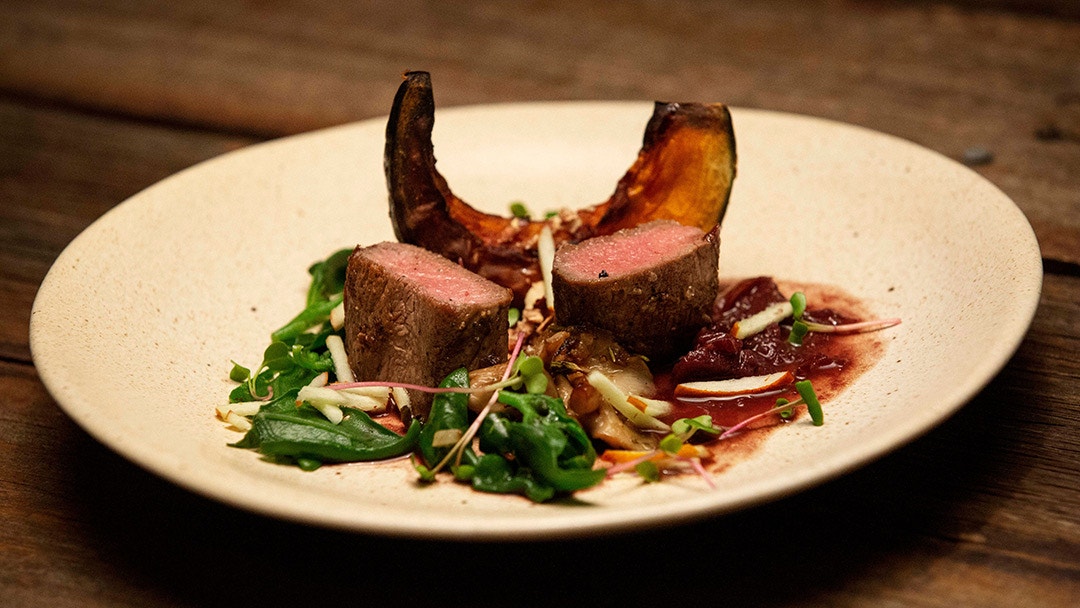 Steps
Preheat oven to 180C.
For the Lamb, prepare a brine. Place the vinegar, salt and 350ml water into a deep dish and stir to dissolve the salt. Add the lamb and set aside for 30 minutes.
Meanwhile, make a herb butter by combining the butter, rosemary and mint in a food processer and blend until smooth and combined. Pass butter through sieve and set aside in a bowl.
When ready to cook, heat a large frypan over medium high heat.
Remove lamb from brine and pat dry with paper towel. Season with salt and pepper.
Add olive oil to the hot pan. Add the lamb and cook for 2-3 minutes on each side, or until cooked to your liking. Remove lamb from the pan and rest on a clean chopping board. Brush generously with the herb butter. Portion each backstrap into 4 to serve. Cover loosely with foil to keep warm.
For the Roast Pumpkin, cut each pumpkin into wedges and discard the seeds. Place onto a lined baking tray. Drizzle with olive oil, season with salt and sprinkle with rosemary.
Bake in the oven until tender and golden, about 30 - 35 minutes. Remove from the oven. Drizzle the pumpkin with maple syrup return to the oven until caramelised, about 7 minutes. Remove from the oven and keep warm.
For the Jujube Reduction, place the wine into a saucepan and boil over high heat until reduced by half. Remove from the heat.
Meanwhile, place oil and onions into a medium saucepan and sauté until golden and soft. Add the jujubes and cook until starting to soften, about 5 minutes.
Add brown sugar and cook, stirring, until dissolved, about 2 minutes. Add the reduced wine and the chicken stock. Allow to simmer until reduced and thickened. Remove from the heat and whisk in the butter, one piece at a time, until a smooth glossy sauce forms. Season to taste and set aside.
For the Grilled Mushrooms, place a medium frypan over medium high heat. Add the ingredients and cook until the mushrooms have caramelised and the liquid has evaporated. Remove from the heat.
For the Warrigal Greens, place the oil into a medium frypan over high heat. Once hot add the remaining ingredients and cook until the greens are just wilted, about 1 minute. Season and remove the pan from the heat.
To serve, arrange slices of lamb on each plate. Add a wedge of Roast Pumpkin, some Grilled Mushrooms and Warrigal Greens. Spoon the Jujube Reduction around the plate and garnish with fresh jujube, sandalwood and parsley.