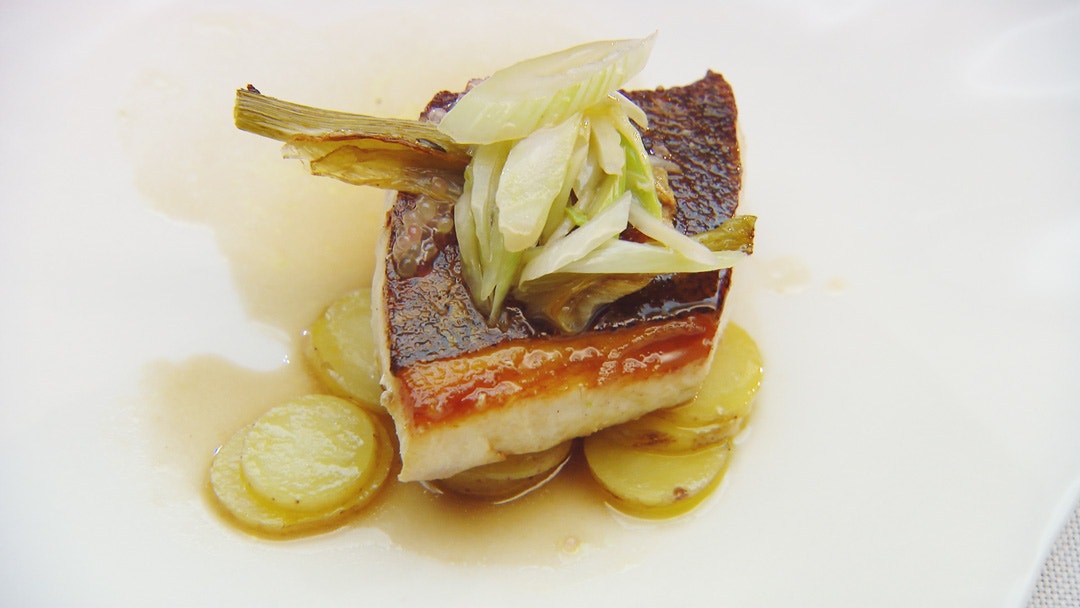 Steps
Preheat oven to 200C.
For the Pickled Fennel, remove the tops from fennel, cut bulbs in half and slice thinly.
Place the remaining ingredients into a bowl and add the sliced fennel. Set aside to pickle for 30 minutes then drain well.
For the Roasted Fennel, place ingredients onto a lined baking tray and toss to combine. Roast in the oven until golden and tender, about 20 minutes. Remove from the oven and cover loosely with foil to keep warm.
For the Confit Potatoes, heat olive oil in a small saucepan over low heat. Add remaining ingredients. Heat until oil reaches 105C then remove from heat and set aside until potatoes are tender, about 20 minutes. Remove from oil with a slotted spoon. Discard thyme and garlic and reserve the oil to cook the Kingfish.
For the Kingfish, place a frypan over medium - high heat with 1 tablespoon of reserved confit oil. Season the fillets and place skin side down into the oil. Cook until crispy, about 4 minutes. Flip over and cook until temperature in the thickest part of the fish reaches 40C, approximately 1-2 minutes.
Season with salt, remove from the heat and set aside to rest before serving.
To serve, arrange Confit Potatoes on each serving plate. Top with a portion of Kingfish and some Roasted and Pickled Fennel.