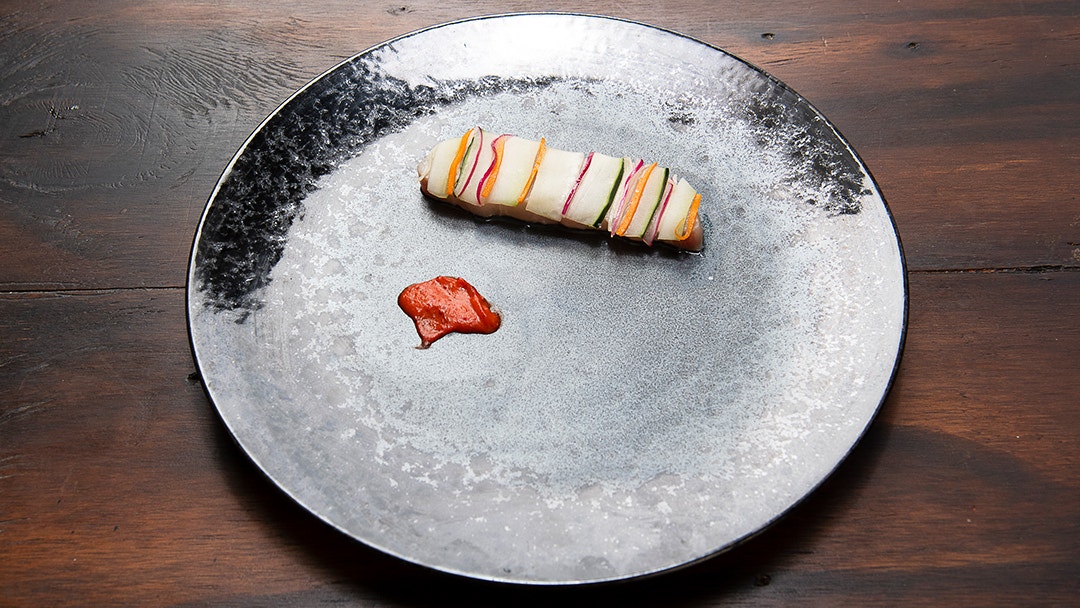 Steps
For the Rainbow Pickle, place vinegar, water, sugar, salt, coriander, fennel and dill into a saucepan. Stir to dissolve sugar and salt and bring to a simmer. Simmer gently for 15 minutes to allow flavours to infuse. Remove from the heat and pour into a tray to cool then place into 4 separate containers.
Slice the vegetables as thinly as possible or shave on a mandolin then julienne the carrot. Place each separately into the bowls of pickling liquid. Cover and refrigerate for 45 minutes.
For the Angry Chilli Jam, prepare chillies by slicing in half lengthways and removing the seeds.
Place all ingredients into a saucepan, cover and simmer gently over low heat for 20 minutes.
Balance the sauce with salt and sugar and vinegar to have some heat, offset by sweetness and acidity. Remove chillies from sauce and place into bowl of ice.
After 10-15 minutes, the skins of chillies should be loose. Scrape flesh from chillies, discarding skin and place into a mini food processor.
Discard the cinnamon stick then add 2-3 tablespoons of the liquid and blend until smooth. Season to taste and set aside.
For the Herb Oil, place a measuring jug into a bowl of ice and set a muslin lined sieve over the top.
Place ingredients into a Thermomix and process on speed 10 for 30 seconds. Cook at 45°C on speed 4 for 8 minutes. Pour through a sieve into the chilled jug and allow to strain.
When ready to serve, remove the skin from the Kingfish and cut across the grain into 8 pieces. Place 2 portions onto each plate so the 2 portions mirror each other in an arch shape.
Arrange Rainbow Pickle on top of the kingfish slices, alternating peeled and unpeeled slices, onion and carrot and finish with slivers of ginger to ensure you taste some in each bite. Using sharp scissors, trim the pickles to the shape of the Kingfish and discard the trimmings.
Spoon a little reserved pickling liquid over to infuse the Kingfish and sprinkle with salt.
Spoon a little Angry Chilli Jam onto the plate and a dot of salt flakes and serve.