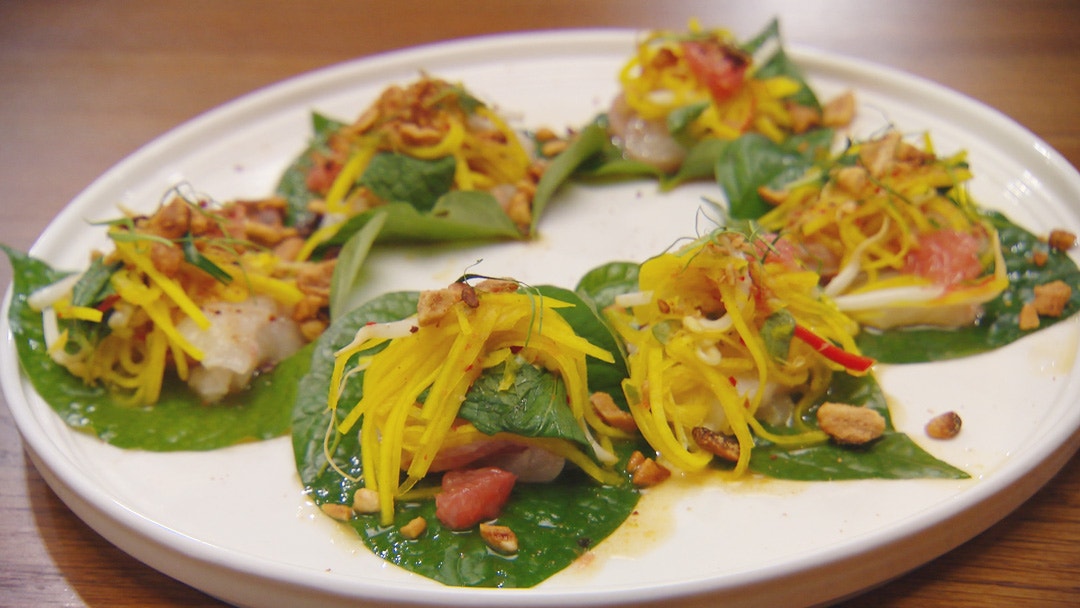 Steps
For the Pickled Papaya Salad, place vinegar, sugar, water, star anise, coriander seeds, cinnamon and turmeric into a saucepan over medium heat. Stir to dissolve sugar and bring to the boil. Remove from the heat.
Place the papaya into a glass or ceramic bowl. Pour the hot liquid over the papaya and set aside until cool. Remove the star anise and cinnamon and drain well.
For the Nam Jim Dressing, place garlic, chillies and ginger into a food processor and process until very finely chopped, without forming a paste. Transfer to a bowl.
Add the remaining ingredients along with 1 tablespoon hot water. Mix well until sugar has dissolved. Set aside.
To finish the salad, combine drained papaya, Thai basil, mint, chilli, grapefruit and dressing in a bowl.
To serve, arrange betel leaves on a large serving platter. Top with kingfish slices then some pickled papaya salad. Garnish with kaffir lime leaf and peanuts.