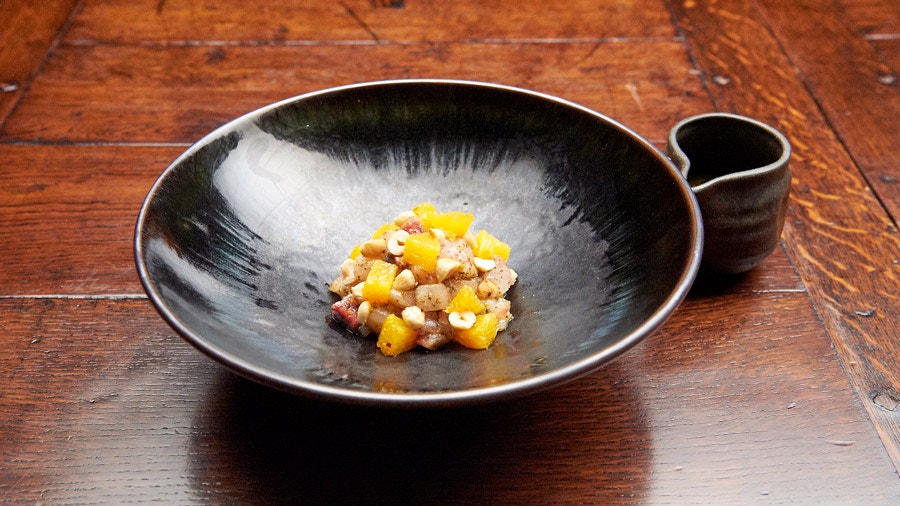 Steps
Preheat the oven to 140C.
For the Braised Kombu, place the oil and kombu into a high speed blender and process on low speed for 6-8 minutes. Strain through a muslin lined sieve and set aside, reserving both the kombu and the oil separately.
For the Roasted Hazelnuts, place the hazelnuts onto a small tray and toast in the oven until golden and skin starts to lift, about 10-12 minutes. Remove from the oven and transfer the to a clean tea towel. Rub vigorously with a tea towel to remove the skins. Cut the hazelnuts in half and set aside.
For the Citrus Sauce, place the orange juice and zest, lemon juice, 1 teaspoon braised kombu and salt into a small bowl and add honey, to taste. Add 2 teaspoons of kombu oil and whisk together.
For the Kombu Cured Kingfish, mix the ingredients together in medium bowl. Cover and allow to cure in the fridge for 30 minutes.
To serve, plate the Kombu Cured Kingfish into the centre of each serving bowl. Arrange some fresh orange segments and Roasted Hazelnuts on top of the kingfish.
Pour the Citrus Sauce around the bowls and serve immediately.