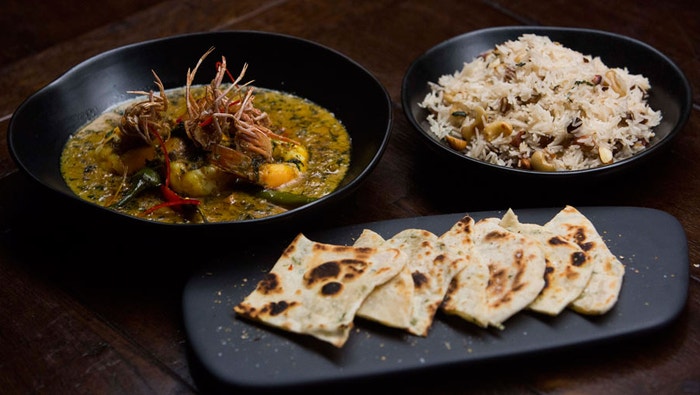 Steps
For the Flatbread, combine flour, 2 tablespoons of the ghee, dried mint and yoghurt with 100ml water in a food processor and process to a smooth, moist dough. Wrap in cling film and set aside to rest for 20 minutes.
Once rested, divide dough into 8 even sized portions. Roll portioned dough into balls then roll out thinly into discs. Brush discs with remaining ghee then roll back up and form into balls again. Roll balls thinly out to discs again.
Place a frypan over high heat then cook bread in batches until crisp and charred on both sides. Set aside, loosely covered with foil to keep warm.
For the Pilaf, heat oil in a large non-stick frypan and add onion, nuts, sultanas and cinnamon stick and sauté until golden. Add basmati rice and cover with 2 cups water and bring to the boil, then reduce heat. Cover and simmer, stirring occasionally until cooked, about 10-12 minutes. Remove from the heat and fluff rice with a fork. Set aside.
For the Prawn Curry, place reserved prawn heads and chicken stock into a medium saucepan. Bring to the boil then reduce heat. Cover and simmer for 20 minutes. Strain through a fine sieve lined with muslin cloth and set aside.
Place cumin, coriander, mustard and fennel seeds into a small frypan over medium heat and toast until fragrant. Transfer to a mortar and pestle and crush to a powder. Set aside.
Heat ghee in a large deep frypan over medium heat. Add ginger, garlic and turmeric along with toasted spices. Cook until fragrant, about 1-2 minutes. Add reserved prawn stock, coconut milk, cinnamon stick and cardamom pods, reduce heat and simmer for 15 minutes. Add chillies, lime juice, mint and fenugreek leaves and season with salt, to taste. Simmer for a further 10 minutes. Add reserved peeled prawns and simmer for 5 minutes until cooked through. Remove from heat and set aside, keeping warm.
For the Crispy Prawn Tail Shells, heat oil in a medium saucepan to 200C.
Add reserved prawn tail shells and deep fry until crisp, about 2 minutes. Remove from oil and set aside on paper towel to drain.
To serve, spoon some of the Prawn Curry into a bowl and top with Crispy Prawn Tail Shells. Serve some Pilaf and slices of Flat Bread on the side.