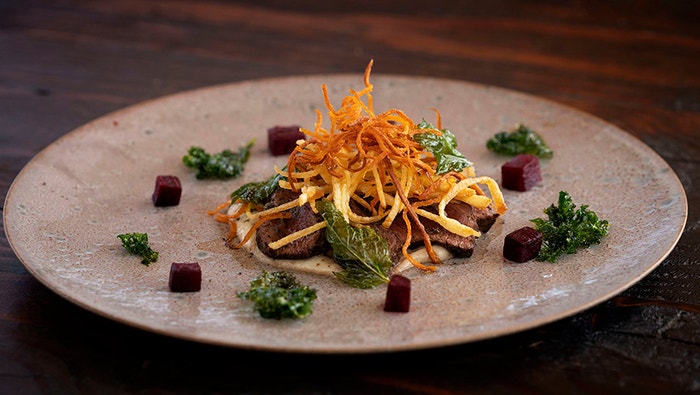 Steps
Preheat oven to 180C.
For the Beetroot, place beetroot, rosemary and salt in a saucepan. Add enough water to cover beetroot and set over medium heat. Bring to a simmer, cover and allow to simmer until cooked through, about 1 hour.
Drain water, peel and dice into bite size cubes. Set aside until serving.
For the Native Herb Salt, remove native thyme and rosemary leaves from stalks and place into a spice grinder. Add pepperberries and salt and process to a powder. Set aside, until serving.
For the Smoky Eggplant Puree, drizzle garlic with a small amount of olive oil, wrap in foil and place in oven to roast until soft, about 25-30 minutes.
Place a metal rack over a gas burner, place the eggplant on top and cook over a medium-high heat turning the eggplant regularly until soft and skin is charred, about 15 minutes. Remove from heat, place in a medium bowl and cover tightly with foil. Set aside to cool then peel skin.
Meanwhile, place sesame seeds, 2 tablespoons of olive oil and salt, to taste, in a food processor and process to a smooth paste. Add eggplant flesh and roasted garlic and process until smooth. Pass the eggplant puree through a sieve, season with salt and set aside, keeping warm, until serving.
For the Carrot and Potato Crisps, place oil in a deep saucepan and set over high heat until 180C.
Working in batches, add potato and carrot to the hot oil and fry until lightly golden and crispy, about 3 minutes. Remove from oil, drain on paper towel and season with salt. Set aside, until serving.
Add mint and kale leaves into hot oil, fry until crispy, about 1 minute then drain on paper towel and season with salt. Set aside until serving.
For the Kangaroo Fillets, place thyme and rosemary leaves in a mortar and pestle and grind to crush. Add lemon myrtle and pepperberries and grind to combine.
Rub kangaroo fillets with the herb mix, drizzle generously with olive oil and season with salt.
Heat a large frypan over high heat. Add kangaroo fillets and sear on all sides. Cook kangaroo to rare, about 2-3 minutes on each side or until cooked to your liking. Set aside to rest, keeping warm, until serving.
To serve, spread some Eggplant Puree in the centre of each serving plate. Slice Kangaroo Fillets and add to the plate. Add Potato and Carrot Crisps and Crispy Mint and Kale Leaves. Scatter with Beetroot cubes and season with Native Herb Salt.