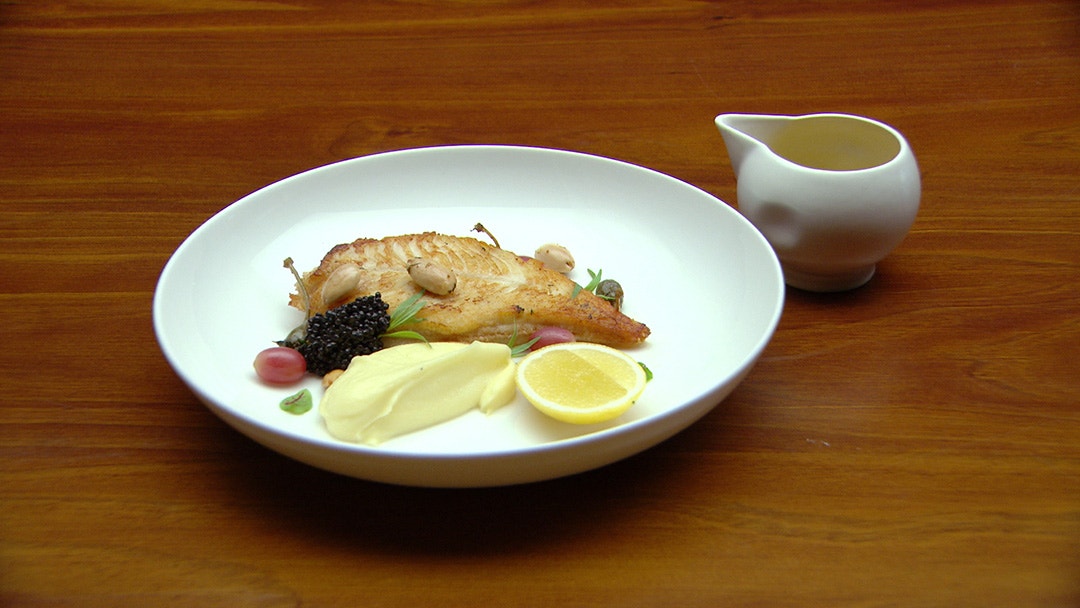 Steps
Preheat oven to 220C.
For the Potato Puree, pierce the skin of the potatoes with a fork and place into the microwave. Cook on high for 10 minutes.
Place the rock salt onto a small baking tray. Place the cooked potatoes on top of the salt and bake in the oven until tender, about 40 minutes. Remove from the oven and allow to cool slightly.
Heat milk in a small saucepan until just below boiling point then remove from the heat.
Cut the cooked potatoes in half and squeeze out the flesh into a large sieve. Press potato through sieve into a medium saucepan. Slowly stir in the hot milk along with the butter. Season with salt and pepper. Set aside for serving.
For the Roasted Grapes, place the grapes onto a lined baking tray. Bake in the oven until just stating to collapse but still holding their shape, about 8 minutes.
For the Caper, Lemon and Tarragon Butter, place the almonds onto a small tray and bake until golden, about 8 minutes. Remove from the oven and set aside.
Place the butter into a medium saucepan over medium heat and cook until butter foams then turns golden brown. Remove from the heat and add the remaining ingredients.
Strain through a fine sieve into a jug and reserve the contents of the sieve and the butter. Set the butter aside in a warm place and reheat gently to serve.
For the John Dory, place a large frypan over medium high heat. Add the oil, season the fish and place into the pan. Cook each fish until brown, about 4 minutes then turn over in the pan. Add the butter and use the tarragon to baste the fillets with the melted butter until just cooked through, about 1 minute. Remove the fish from the pan and place onto serving plates.
To serve, add some Potato Puree to the plate. Scatter with Roasted Grapes, almonds and caper berries. Garnish with fresh tarragon tips and micro sorrel leaves. Serve with the jug of hot browned butter on the side.