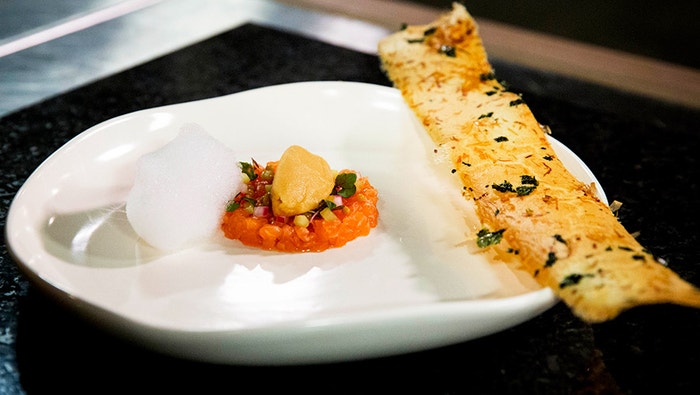 Steps
Preheat oven to 170C. Turn on ice cream machine to chill according to the manufacturers instructions. Place canister of oil for the Wasabi Caviar into freezer.
For the Ponzu Sorbet, combine sugar and ½ a cup of water in a small saucepan, place over low heat to bring to the boil. Once boiling, remove from heat and add remaining ingredients. Stir well until fully combined then set over an ice bath to cool. Once cool, transfer to pre-chilled ice cream machine and churn until set, about 35 minutes. Once set, transfer to the freezer until needed.
For the Wasabi Caviar, combine soy and wasabi in a small bowl and stir until well combined.
Place 70g water and agar powder into a small saucepan and whisk to combine. Place over low heat and continue to whisk until the liquid has turned clear and is boiling, about 2 minutes. Remove from heat and whisk into the bowl of wasabi mix. Set mixture aside to cool slightly.
Transfer mixture to a large syringe. Remove cold oil from freezer and carefully drop small droplets of the mixture into the oil, moving the syringe in a circular motion as you drop the liquid into the oil. Strain the pearls through a fine sieve to remove oil and rinse under cold water. Set caviar aside in a bowl until ready to plate.
For the Tuille, line a baking tray with baking paper. Combine, flour, sugar, salt and melted butter in a small bowl and mix well until smooth. In a separate bowl, whisk egg whites until foamy, then add to the bowl of batter and whisk until smooth.
Spread batter thinly onto the pre-lined baking tray into 5cm wide rectangular strips. Top with ground nori and bonito flakes then bake in the oven until golden, about 6-8 minutes. Remove from oven and set aside until needed.
For the Salmon Tartare, trim fillet of any excess fat then cut into 5mm x 5mm cubes. Place into a bowl, cover with cling film and set aside in the fridge until required.
For the Pickled Vegetables, combine vinegar, sugar, salt, ginger and garlic into a small saucepan over medium heat and bring to the boil. Once boiling, remove from the heat and set aside to cool slightly.
Meanwhile, place finely diced cucumber and onion into a bowl. Once pickling liquid has cooled slightly, pour over the diced vegetables and set aside to pickle until needed.
For the Yuzu Air, combine yuzu juice, soy lecithin and ½ cup water into a narrow canister. Use a stick blender to blitz the liquid until a foam forms on the surface, about 4 minutes.
To plate, place a 6cm wide chefs ring moulds into the middle of each serving plate. Divide Salmon Tartare between moulds and gently press down with the back of a spoon to compress and level off the surface. Top the Salmon with some pieces of pickled onion and cucumber then gently remove mould. Add some Wasabi Caviar to the top of the salmon then top with a few micro shiso leaves. Skim some of the Yuzu air form the canister and spoon on the plate, close to Salmon Tartare. Add a Tuille to one side of the plate. Finish with a small rocher of Ponzu Sorbet on top of the salmon.