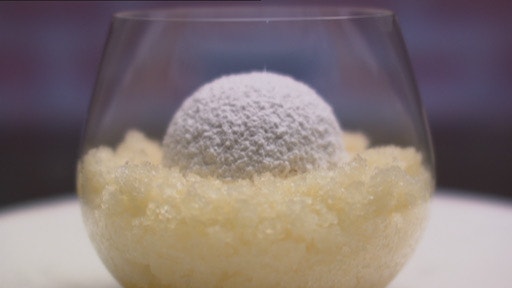 Steps
Preheat oven to 155°C and turn on ice cream machine to chill.
For jackfruit granita, place sugar and water in a medium saucepan and bring to the boil, remove from heat.
Lightly grease knife and hands with oil before handling jackfruit to make cleaning up easier; or wear disposable gloves. Trim away skin and core from jackfruit and discard. You will need 1.2kg jackfruit flesh, husks and seeds. Roughly chop into segments, add to sugar syrup and simmer until tender, about 20 minutes.
Pour mixture into a large deep silver tray and blast chill until cool (about 10-15 minutes). Pour through a fine sieve into a large jug, discard solids, then pass through a filter paper-lined conical sieve into a large jug. Pour into a shallow baking tray small enough to fit in the freezer.
Place in freezer until just frozen. If rock solid, leave out until you can scrape the surface. Fork up into flakes and place immediately in the freezer until ready to serve.
For jackfruit puree, prepare the jackfruit flesh- remove skin, seeds and any husks inside the segments of the jackfruit. Also remove paler outer flesh membrane. You will need 660g cleaned jackfruit flesh.
Bring sugar, water and vanilla to the boil in a medium saucepan and add jackfruit flesh. Simmer for 8-10 minutes or until tender and liquid has reduced slightly. Discard vanilla bean. Puree flesh and liquid until smooth then pass puree through a fine sieve. Place in refrigerator until needed.
For jackfruit ice cream, pour milk, water and trimoline into a small saucepan and bring to the boil. Place egg yolks and sugar in a large bowl and whisk until combined. Gradually pour hot milk mixture over yolks and sugar, whisking continuously. Pour into a large pyrex or metal bowl over a double boiler and cook until it reaches 82°C. Cool custard over a large bowl of iced water or in the fridge.
Add puree to chilled custard and stir to combine. Pass mixture through a fine sieve placed over a bowl and churn 500ml jackfruit custard in an ice cream machine until firm. About 20-25 minutes until churned. Transfer to a plastic container with a lid and place in freezer until set firm.
For snow egg, place egg whites in the bowl of an electric mixer with whisk attachment and whisk until lightly foamy. Pour in sugar and whisk on medium speed until stiff peaks form and mixture is glossy, transfer to a large piping bag.
Place a 12-hole 60mm hemisphere silicone mould in a deep roasting tray and spray lightly with oil spray. Using scissors snip the end off piping bag and pipe meringue into them, over-fill slightly. Half fill tray with boiling water and bake for 12-13 minutes until lightly coloured. Allow to cool for 2 minutes then trim until level to make perfect hemispheres.
Gently unmould meringues onto a baking paper-lined tray and place flat-side down. Once cool, cut off the base of half the hemispheres. Turn over all the hemispheres and scoop a small teaspoonful scoop of meringue out of the centre of each hemisphere. Keep in fridge until assembly.
For caramelised maltose, remove lid and heat container of maltose in a microwave for 20 seconds to soften. Scoop maltose into the centre of a silpat-lined baking tray (mixture will spread in oven) and bake at 160°C fan forced until golden, about 20 minutes. Leave to cool. Once set, snap into shards.
For almond praline, sprinkle sugar over base of a large frying pan, set over medium-high heat and allow to melt into a caramel, agitating the pan or flicking the melting sides in with a spatula as you go. Once sugar has melted and turned into a caramel, add almonds, give it one quick stir and pour quickly onto a sheet of baking paper, then cover with another sheet of baking paper and roll out until thin. Allow to cool. Once set, snap into shards.
For tuiles, place caramelised maltose and almond praline in a thermomix or blender and blitz to a super fine powder.
Lay an acetate stencil of 10.5cm circles over a silpat-lined baking tray and sieve enough of the tuile powder to a fine even coating, remove stencil carefully.
Bake at 160°C fan forced until melted, about 2-4 minutes. Allow to cool, carefully remove without snapping. Repeat until you have 10 good tuiles. Store in an airtight container between sheets of baking paper.
For brulee mixture, whisk egg, yolks and sugar until combined. Bring cream and vanilla to the boil in a medium saucepan and gradually pour over egg mixture, whisking continuously. Pass through a fine sieve into a bowl.
Pour warm mixture into a vacuum seal bag and vacuum seal. Place bag in a steamer half-full of simmering water, turn down heat to low and cook for 10-12 minutes until slightly thick, turning halfway. Place in an ice bath to stop the cooking process and allow to cool to 4°C, mixture will thicken more on cooling. Refrigerate until ready to use.
For brulee fool, lightly whip cream with brulee mixture to soft peaks. Carefully fold through jackfruit puree to create a swirled marble effect. Refrigerate until assembly.
For assembly, place fool in the bottom of each wide-mouthed stemless serving glass (Riedel chardonnay O-series).
Using a half-teaspoon scoop measure, place a small scoop of ice cream in the centre of the meringues with the trimmed bases. Cover with the remaining hemispheres to make full spheres. Seal with your finger dipped in a little water if necessary.
Place a tuile over a sphere and using a blow-torch and a circular motion, melt the tuile evenly over the snow egg so that it wraps it completely, patting down if necessary. Repeat. Dust spheres liberally with icing sugar.
Add a few spoonfuls of granita to each serving glass. Use two teaspoons to place a snow egg on top of granita and serve immediately.
Notes
Makes: directions are for 6 snow eggs but there is enough mix for 14. Preparation and cooking: 3 hours, plus chilling time.