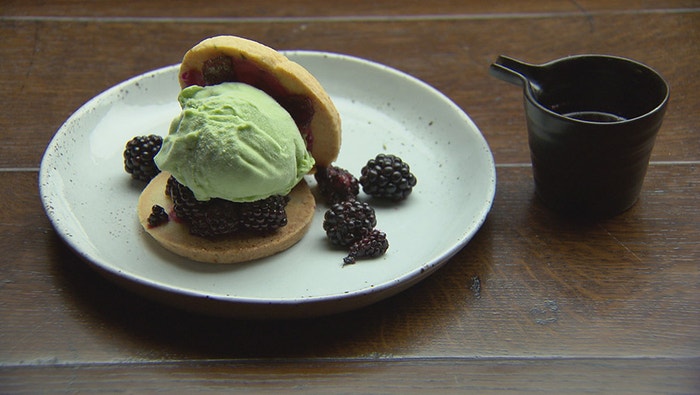 Steps
Turn on ice cream machine to pre-chill. Preheat oven to 180C
For the Basil Ice Cream, heat milk and cream with a quarter of the basil over a low heat until it comes to the boil. Remove from heat and set aside until needed.
Place egg yolks and sugar together in the bowl of an electric stand mixer fitted with the whisk attachment and whisk until thick and pale.
Strain hot milk mixture over the egg yolk mixture, whisking constantly. Return the mixture to the saucepan and place over a low heat. Cook, stirring constantly, until the custard thickens enough to coat the back of a spoon. Remove from heat and chill over an ice bath until cool.
Meanwhile, blanch remaining basil leaves in boiling water for 10-15 seconds and then refresh in iced water immediately.
Strain the basil leaves and squeeze out all excess water from the basil. Pat dry with paper towel. Place the basil leaves into a blender with the cold custard and blitz until the basil has completely pureed through the custard.
Strain the custard through a fine sieve and transfer to the pre-chilled ice cream machine. Churn according to manufacturer's directions. Once churned, transfer ice cream to the freezer to set.
For the Tarragon Biscuit, combine all ingredients together in a food processor and pulse to form a dough. Roll out on a lightly floured surface to 8mm thick. Using an 8cm round cutter, cut out discs of dough and place onto a baking tray lined with baking paper. Place the tray in the freezer to chill the dough for 20 minutes.
Once chilled, bake the biscuits in the pre-heated oven until golden, about 15 - 20 minutes. Remove from oven and set aside to cool until ready to serve.
For the Pickles, place vinegar, sugar, peppercorns and star anise into a small saucepan and bring to a simmer, stirring to ensure the sugar is all dissolved. Once dissolved, remove from heat.
Place blackberries and beetroot slices in a medium heatproof bowl and pour the pickling liquid into the bowl. Set aside to pickle for 20 minutes. Drain the blackberries and beetroot, reserving the pickling liquid, and set aside until ready to serve.
For the Beetroot and Blackberry Caramel, peel and juice beetroots to yield 200ml juice and place into a small saucepan.
Add sugar and heat on a medium heat until liquid has reduced by ¾, about 15 minutes.
Add reserved pickling liquid and blackberries to the pan and continue cooking until berries break down, adding a splash of water if caramel reduces too much. Strain through a fine sieve and pour into serving jug. Set aside until ready to plate.
For the Candied Beetroot, spread butter on the base of a flat baking tray lined with baking paper. Place the sugar in a medium bowl and toss the beetroot through the sugar to coat. Lay the beetroot slices in a single layer over butter. Roast in the pre-heated oven until well caramelised, about 15 minutes. Remove from oven and set aside on the tray until ready to serve.
To serve, place a Tarragon Biscuit in the middle of each serving plate. Top each with a few slices of pickled beetroot and Candied Beetroot. Place a scoop of Basil Ice Cream on top of the beetroot layer. Top each scoop with a few fresh and pickled blackberries. Place a second Tarragon Biscuit on top to make an ice cream sandwich. Scatter a few extra fresh blueberries around the plate and serve with Beetroot and Blackberry Caramel in a serving jug on the side.