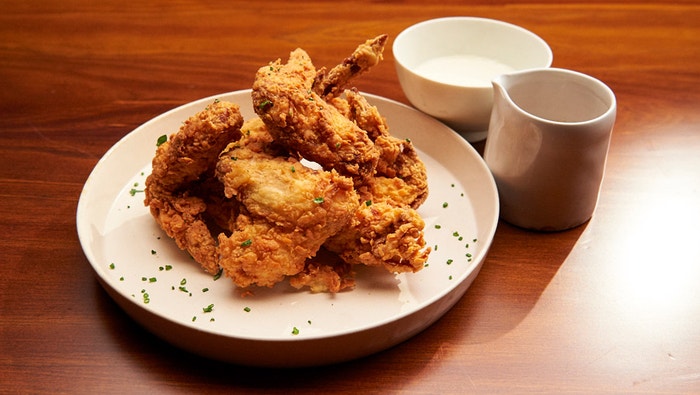 Steps
Preheat oil in deep fryer to 190C.
For the Buffalo Chicken Wings, place the wings into a large bowl, pour over 500ml of the buttermilk and set aside in the fridge for 20 minutes.
For the sauce, place the onion, garlic and chillies into small food processor and process to a smooth paste. Set aside.
Place the sugar and 2 tablespoons of water into a small saucepan and place over a medium heat. Cook until it the syrup reaches a golden colour. Add the onion and chilli paste to the pan and stir to combine and cook for 2-3 minutes. Add the cayenne pepper, chipotle powder and smoked paprika and cook for 2-3 minutes. Add the vinegar and cook until the mixture reduces and thickens slightly, about 10 minutes. Remove from the heat, season with salt and set aside.
Meanwhile, place the flour, garlic powder and salt into a medium bowl and add the remaining 100ml of buttermilk. Mix with a fork until it forms little clumps of dough.
Remove the wings from the buttermilk and allow excess to drain. Dip each wing into the flour mixture and press onto chicken firmly. Cook the wings, in batches, until golden and fully cooked, about 5-6 minutes. Remove from the oil and drain on kitchen paper.
For the Blue Cheese Sauce, combine ingredients in canister of a stick blender and process until smooth. Transfer to a serving ramekin.
To serve, pile the chicken wings onto a large serving plate. Pour the Buffalo Sauce over the top and serve with the Blue Cheese Sauce on the side. Sprinkle with parsley and chives.