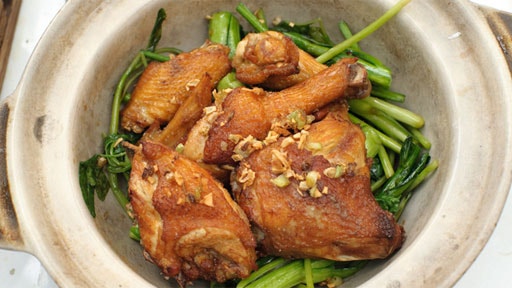 Steps
Put soy, rice wine, dried spices, chilli, ginger and garlic into wok with enough water to cover chicken. Poach until almost cooked through, removing smaller chicken pieces as necessary. Dry chicken.
Pour poaching liquid over prepared Asian greens to blanch.
Deep fry chicken until golden brown.
Fry chopped garlic and shallots (spring onions) until crisp and drain.
Toss greens in a wok with a little oil, julienned ginger and oyster sauce. Serve topped with chicken, sprinkled with fried garlic and spring onions.
Notes
This recipe has been written by an amateur chef and has not been tested by the MasterChef food department.