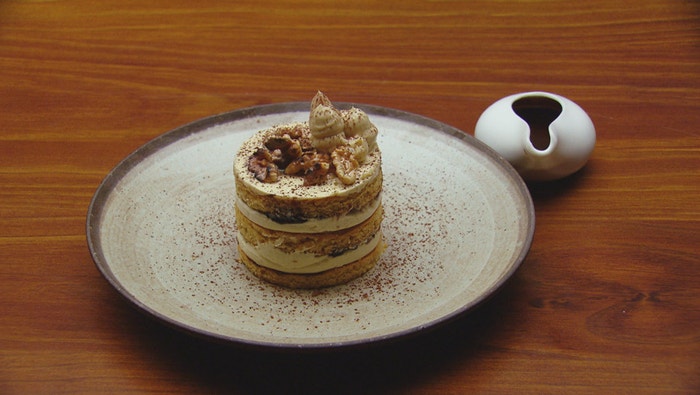 Steps
Preheat oven to 180C.
For the Honey Sponge, line a shallow 30cm x 20cm baking tray with baking paper and set aside. Bring a small saucepan of water to a simmer.
Place the sugar, butter and honey into a small saucepan. Place over the saucepan of simmering water. Stir until the sugar has dissolved and the butter and honey have melted.
Remove the saucepan of honey mixture and place it directly over a medium heat. Whisk until the mixture is a light caramel colour, about 3 minutes. Remove from the heat.
Transfer the mixture to a medium stainless steel bowl and allow to cool to room temperature.
Add the eggs and bi-carb soda and whisk until combined. Place the bowl on top of the simmering water and whisk until thick and pale. Remove the bowl from the heat and fold in the flour.
Spread the batter into the prepared tray and bake until golden brown, about 7 minutes.
Remove from the oven and set aside to cool. Using a 6cm cutter, cut 12 rounds from the sponge and set aside for assembly.
For the Caramel Butter Cream, place the brown sugar and 50ml of water into a small frypan and cool until a dark amber caramel forms. Remove from the heat and allow to cool slightly.
Place the butter into the bowl of an electric mixer fitted with a creaming attachment and beat until pale. Add the condensed milk, a little at the time, and beat until pale and glossy.
Gradually add the cooled brown sugar caramel and beat until fully incorporated. Transfer to a piping bag and set aside in the fridge to chill and firm.
For the Chocolate Sauce, place the sugar, cocoa powder, cinnamon and 1/2 cup of water, into a small saucepan. Place over a low heat until thick and glossy. Add the butter and stir until melted. Remove from the heat and allow to cool completely.
To assemble the cakes, line a medium baking tray with baking paper. Place four 6cm high x 6cm round chef moulds onto the prepared tray.
Place a round of sponge inside of the ring mould and pipe the buttercream over the sponge in even layer. Drizzle with 2 teaspoons of the Chocolate Sauce and sprinkle with 1 teaspoon of toasted walnuts. Repeat the layering process again then finish with a layer of sponge and buttercream. Smooth the surface and place cakes into the fridge for 30 minutes to set.
To serve, remove cakes from the fridge. Lift cakes from the tray and place each into the centre of each plate. Remove ring moulds. Finish cakes with a dusting of cocoa powder and the remaining sauce on the side.